Clad in matching lobster suits, Randy Chavez and Cassandra Carreno stepped toward one another in the front of a courtroom covered in spider webs.
"I'm going to put the two of you here facing each other, claw in claw," said Justice of the Peace Justin Kidd, who wore a Jedi robe.
Chavez, 25, and Carreno, 26, were among 10 couples who chose an unconventional wedding Tuesday, celebrating Halloween by tying the knot at the Marion County Justice Court on Northeast Portland Road.
Moments before, the pair sat with Kidd as they recounted an abbreviated version of their love story. They met on Tinder in October 2019 and talked constantly, "about everything and nothing at the same time," Chavez said.
Kidd's Halloween wedding spectacular came about organically.
"Last year people just called me randomly asking for Halloween weddings," he said. "I didn't know this was a thing."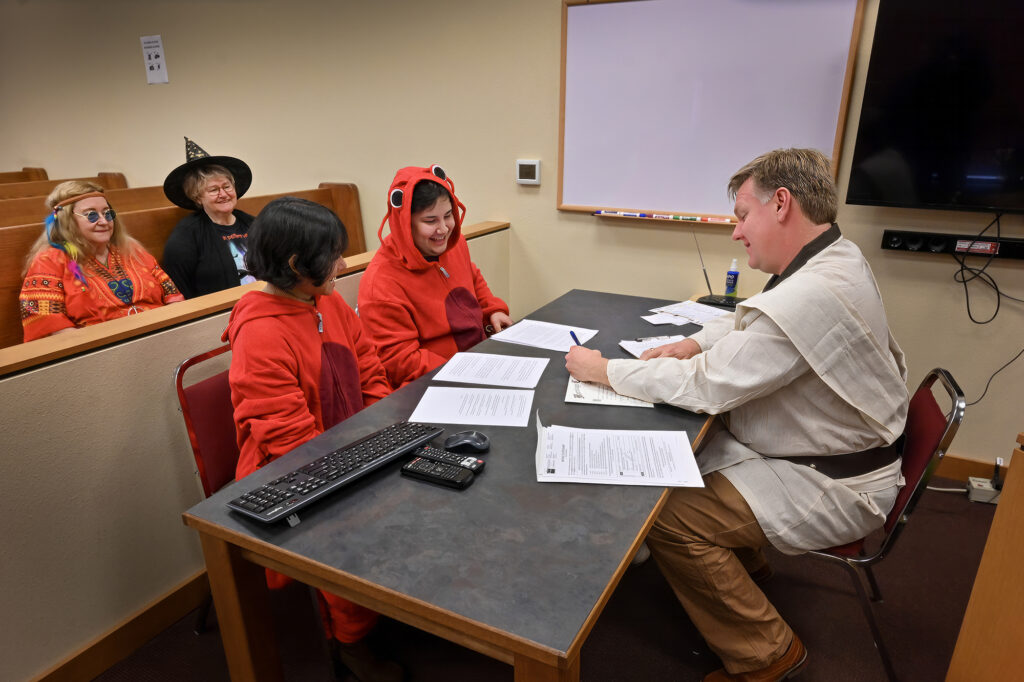 Kidd recalled once as a lawyer, he had a judge schedule a trial for Halloween, which would have made him miss trick-or-treating with his five-year-old son. He persuaded the court to reschedule, and vowed to make court family-friendly once he became a judge. 
Marrying people all day means he can avoid putting other parents in the same position.
"I was like, 'This is great, we're never going to have court on Halloween again," he said.
The Halloween wedding proved so popular, Kidd said, that following the announcement of this year's festivities, he was soon full and signing up couples for an overflow date on Friday, Oct. 13.
On Tuesday, his courtroom was decked out with zombie balloon figures made by a volunteer greeting people as they stepped in. Cupcakes and candy awaited couples following their ceremonies. Kidd had three versions of a wedding ceremony prepared: a traditional one, a spooky-themed Halloween version, and a Star Wars ceremony referencing the Force that binds couples together.
Marrying couples is a calling for Kidd, who is gay and spent years unable to marry his husband.
In 2014, when a court ruling legalized gay marriage in Oregon, he and his longtime partner went to the courthouse to get married within a few days.
"We wanted to get it locked in," he said, fearing the ruling would be overturned.
But when the couple arrived at the Marion County Courthouse, they were told the judge available wouldn't be a good fit "for you," Kidd recalled. They found another local judge to marry them, and Kidd said he wants to make sure no other couple experiences that feeling of being left out.
"For so long we were just excluded from that right, so when I became a judge, it's kind of my mission to the world … to recognize the state recognizes the equal dignity of all marriage," he said.
For Chavez and Carreno, a small ceremony at the courthouse fit the life they're building together.
The couple moved to Salem from Bakersfield, California, together early this year and don't have family in the area.
They'd been discussing having a baby and getting married, and considered eloping to Hawaii or another state when Carreno learned she was pregnant. Their baby is due Jan. 11.
"We wanted to celebrate, but on a spontaneous date," Carreno said, explaining why a Halloween courthouse wedding fit the bill. After, they planned to celebrate at the Spirit of Halloweentown in St. Helens.
The lobster suits were in reference to Friends, her favorite TV show.
Witnessing their union were their dog, Lilo; their birth doula, Lori Lawrence; and Beth Weld, a mentor from a parenting program.
Kidd asked each one their favorite thing about the other before starting the ceremony.
"She would do anything for anyone," Chavez said. "That just inspires me to be a better person."
Contact reporter Rachel Alexander: [email protected] or 503-575-1241.
SUPPORT OUR WORK – We depend on subscribers for resources to report on Salem with care and depth, fairness and accuracy. Subscribe today to get our daily newsletters and more. Click I want to subscribe!
Rachel Alexander is Salem Reporter's managing editor. She joined Salem Reporter when it was founded in 2018 and covers city news, education, nonprofits and a little bit of everything else. She's been a journalist in Oregon and Washington for a decade. Outside of work, she's a skater and board member with Salem's Cherry City Roller Derby and can often be found with her nose buried in a book.