Fall is finally in the air, and with Halloween just around the corner, Salem has cooked up dozens of opportunities to show off costumes, get scared or load up on candy.
Here's a guide to celebrating the last week of Spooky Season for people of all ages.
Trick or treat and candy events
Gilbert House Children's Museum will host its annual "Halloween Re-Engineered" event on the sidewalk outside the museum on Sunday, Oct. 29 from 10 a.m. to 2 p.m. Kids can get candy from a variety of machines and gizmos while showing off their costumes. Kids must register in advance, with a cost of $5 per child for museum members and $7 for non-members. The museum is located at 116 Marion St. N.E. More information and tickets are available on the Gilbert House website.
Willamette Heritage Center's Drive-Thru Trick-or-Treat is back Sunday, Oct. 29 from 12-4 p.m. Local businesses and nonprofits will pass out candy to kids in vehicles or on bicycles in the center's parking lot, 1313 Mill St. S.E. The event is free and no pre-registration is needed. About 1,500 visitors attended last year, the center said.
A number of Salem churches and businesses are holding harvest festivals or trunk-or-treat events this weekend.
On Saturday, Oct. 28:
Our Savior's Lutheran Church, 1770 Baxter Rd. S.E., 1-3 p.m.
Morningside United Methodist Church, 3674 12th St. N.E., 3-5 p.m.
Rosedale Friends Church, 452 Hylo Rd. S.E., 3-6 p.m.
Newsong God Church of Prophecy, 3850 Portland Rd. N.E., 4-6:30 p.m.
On Sunday, Oct. 29:
West Salem Christian Church, 1155 Glen Creek Rd. N.W., 2-4 p.m.
Morning Star Community Church, 4775 27th Ave S.E., 3-5 p.m.
Christian World Fellowship, 4932 Liberty Rd S., 3-5 p.m.
Salem First Presbyterian Church, 770 Chemeketa St. N.E., 4-6 p.m.
New Harvest Fellowship, 4290 Portland Rd. N.E., 4-6 p.m.
On Tuesday, Oct. 31:
West Hills Community Church will have a Halloween Candyfest from 6-7 p.m. in the church gym at 1650 Brush College Rd N.W.
Willamette Valley Multiple Listing Service, 4-7 p.m., in the office parking lot at 3421 25th St. S.E. Includes candy, photo booth, face painting, games and a kickoff for the annual food drive. Bring a check, canned food or pet food to donate in support of Marion Polk Food Share, the Oregon Humane Society and Linn-Benton Food Share.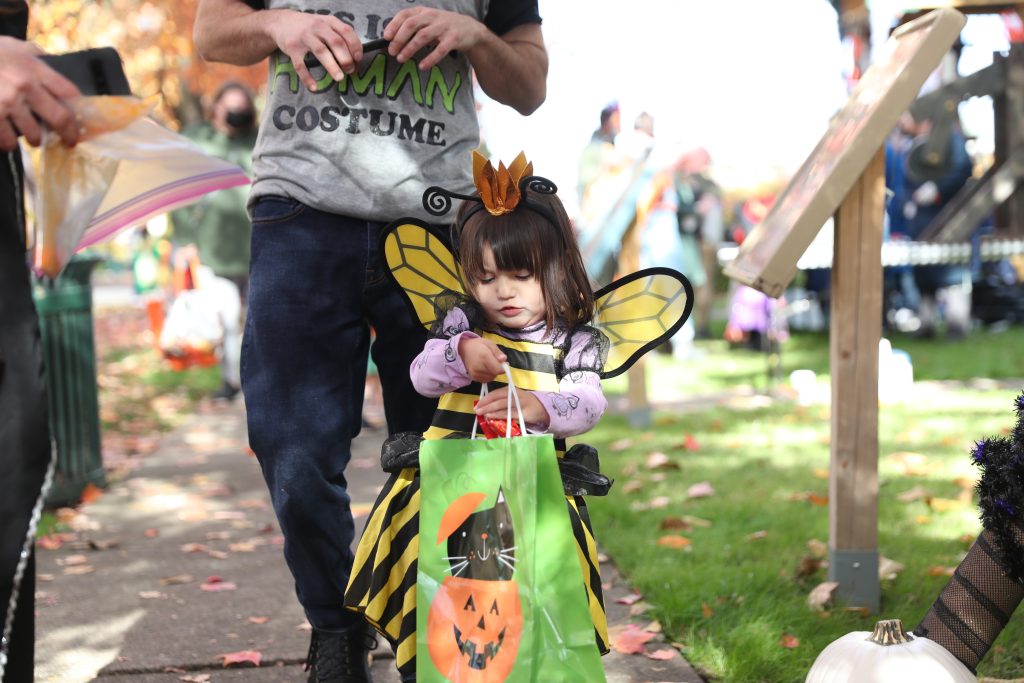 Costume, parade and family fun
Scareousel at Salem's Riverfront Carousel in Riverfront Park, Saturday, Oct. 28, 10 a.m.-2 p.m. Free activities include take-home coloring pages and a candy corn guessing game. For $10, get four carousel rides, a small popcorn and Halloween goody bag.
Powerland Heritage Park's "Journey to Atlantis" – A kid-friendly, non-spooky Halloween adventure awaits for visitors who can take a 20 minute journey to help save Atlantis after its shield fails. Visitors can also pick out a pumpkin to take home, take a wagon ride pulled by a giant steam traction engine or go on unlimited trolley rides with a skeleton hunt – and anyone who finds all the skeletons will get to spin a prize wheel.
The park at 3995 Brooklake Rd. N.E. will be open on Saturday, Oct. 28, and Sunday, Oct. 29, from 10 a.m. to 5 p.m. Tickets are $18 for adults and $14 for kids, and they can be bought onsite or online.
Thrills and Chills Haunted House – The Salem Public Library's Teen Advisory Board invites families to a haunted house suitable for elementary-aged kids. Open Saturday, Oct. 28 from 1-3 p.m. at the main library, 585 Liberty St. S.E.
Halloween Dress Rehearsal – The Salem Police Department invites kids and their families to attend in costume and practice being safe on Halloween night. Officers will discuss traffic and pedestrian safety, with giveaways and activities for kids. Saturday, Oct. 28, 3-5 p.m. at the police station community room, 333 Division St. N.E.
Northgate Park's "Fun and Safe Halloween" Event – This free Halloween event will include activities for the whole family, including a costume contest, free family portraits, face painting, bracelet making, bite-the-donut and a surprise musical guest. The event will be at the park, 3575 Fairhaven Ave. N.E. in Salem on Saturday, Oct. 28, from 3-6:30 p.m.
Fairmount Halloween Parade — Kids in costume and their families are invited to walk through the Fairmount neighborhood in south Salem for the 11th year. Meet at Fairmount City Park, 650 Rural Ave. S., at 5 p.m. on Tuesday, Oct. 31.
Spooky and adult events
Nightmare Factory — Take a walk through this haunted house complete with actors and props for a full fright on Oct. 27, 28, 30, 31, and blackout days Nov. 3 and 4. This event is a fundraiser for the Oregon School for the Deaf and is held on the school's campus at 999 Locust St. N.E. in Salem. General admission tickets are $20.
HallowQueen Drag Show — Saturday, Oct. 28 from 6-8 p.m. at the Salem Public Library's Loucks Auditorium, 585 Liberty St. S.E. Enjoy a night of spooky drag from performers Devlin Lynn Phoénixx, Kharisma, Kwanzaa, and Carmen. Music by DJ QueerCub. Admission is free and seating is first-come, first-served. Adults only.
Fordyce Farms Haunted Corn Maze — Runs Friday, Oct. 27, and Saturday, Oct. 28, at the farm, 7023 Sunnyview Rd. N.E., from 7-9:30 p.m. Admission $15. Not recommended for young children. May be canceled in case of heavy rain; check the farm website for latest information.
Rocky Horror Picture Show — Enjoy the camp Halloweentime classic at the Elsinore Theater on Saturday, Oct. 28, at 8 p.m. Tickets cost $10 in advance or $15 the day of the show. Limited outside props allowed, but no rice, please.
Halloween Hijinks at Salem Cinema — Starting Friday, Oct. 27 through Halloween, enjoy daily screenings of classic horror and spooky movies at Salem Cinema, including Shaun of the Dead, Hot Fuzz, Zombieland and The World's End. Tickets are $8. For a schedule and to buy tickets, visit the theater website.
Contact reporter Rachel Alexander: [email protected] or 503-575-1241.
SUPPORT OUR WORK – We depend on subscribers for resources to report on Salem with care and depth, fairness and accuracy. Subscribe today to get our daily newsletters and more. Click I want to subscribe!
Rachel Alexander is Salem Reporter's managing editor. She joined Salem Reporter when it was founded in 2018 and covers city news, education, nonprofits and a little bit of everything else. She's been a journalist in Oregon and Washington for a decade. Outside of work, she's a skater and board member with Salem's Cherry City Roller Derby and can often be found with her nose buried in a book.