George Puentes, a long-time Salem civic leader and business executive, died Friday, Oct. 13, at his home in Idaho, after contending with cancer for 10 years. He was 76.
"The city of Salem has lost one of its beacons in George," said Ricardo Baez, his brother-in-law. "He loved our community. He loved Salem."
Puentes retired in 2014 from the tortilla manufacturing firm he established in Salem in 1979, Don Pancho Authentic Mexican Foods Inc. Baez succeeded him as president
A long-time friend, Steve Altman, a financial advisor and co-founder of TRUE Private Wealth Advisors, said Puentes "was such a significant community leader, a strong ambassador for the city of Salem."
Puentes built Don Pancho into a well-known brand in the Northwest. But as he grew his company with what a friend described as "tireless work," Puentes took time to volunteer for the nitty-gritty of civic life, starting with participation in a Salem neighborhood association.
He also served on local nonprofit boards and earned a larger footprint with service on the boards of Northwest Natural, Meyer Memorial Trust, and the Federal Reserve Bank of San Francisco.
Puentes was born Sept. 25, 1947, and grew up in San Jose, California. He served three years in the U.S. Air Force and graduated from San Jose State University.
His father, Francisco, had started a tortilla manufacturing company in California and Puentes learned the business. He would say later he took away lessons about hard work, honesty and treating people well.
"I saw the way he treated people with so much respect – didn't matter if it was the dishwasher in a restaurant to the owner or to a clerk in the back room," Puentes said in a 2015 interview with KGW.
In 1979, he and his brothers scouted a location for a Northwest factory and planted the family flag in Salem. The tortilla business started small but grew rapidly and soon changed the name from Puentes Brothers Inc. to Don Pancho.
That was out of respect for his father, Puentes said in that 2015 interview. He explained Pancho was a nickname for Francisco and don was "a term of respect."
The Salem operation eventually produced millions of tortillas a day, destined for grocery stores, schools and restaurants.
One customer was the Los Baez restaurants in Salem.
Baez was part of that family and that's how he became acquainted with Puentes and his company. In 1993, he went to work for Puentes.
"His motto was to do right, to always take care of the customer," Baez said.
He said Puentes was motivated to "carry on the family legacy in the manufacture of tortillas and making the best product available in the Northwest."
Janet Taylor, former Salem mayor who founded and later sold Taylor Metal Products, said Puentes "wanted to build on his father's success when he was here. He often would talk about what his father did."
At the Salem factory, Puentes "would acknowledge every single one of our employees, whether janitor or a warehouse individual or someone who worked in the office," Baez said.
At the same time, "He was a very demanding individual that demanded that we do our best," Baez said.
"He's just a tireless worker and expected that of the people who worked for him," said Altman, who has known Puentes for 35 years.
In 2004, the family sold the company to another family-run Oregon business – Reser's Fine Foods. The deal came about by chance, Baez said.
"We had an absolutely great product but we had limited distribution," Baez said. "Reser's had a really good distribution system and they didn't really have a good tortilla at the time. It really made a lot of sense for us to partner up."
Taylor said Puentes recognized the connection between his business and the city.
"He understood that he couldn't be truly successful if the community wasn't," said Taylor. "The business was a way to say thank you not to just employees and family but the community in general."
That civic volunteering, said Altman, was not about building a political resume.
"For George, he truly loved doing it," Altman said.
"I often wondered why he wasn't more selfish with his time," Baez said.
Puentes held seats on the boards of several nonprofits and was president of the Salem Area Chamber of Commerce in 2002.
Over the years, his civic duties included chairing the Croisan Neighborhood Association, serving on the city Planning Commission and as president of Salem Neighborhoods Inc. He sat on the Salem City Council from 1993 until 1996, serving as council president in his last year.
He twice ran for mayor, dropping out of one race to care for his first wife, who died in 1993. In 1996, he lost a close race to Salem attorney Mike Swaim. The count was 11,790 for Swaim and 11,066 for Puentes.
"He felt that he would be the right person to help make Salem better," Baez said of that race. "He gave everything within his power to win. That was a tough time. He bounced back from that."
Friends didn't consider him a politician, though.
"He was too blunt for that," Taylor said.
She said she found Puentes to be "very smart, strongly opinionated – but I agreed 99 percent of the time."
Altman shared a similar assessment.
"He wasn't afraid to speak his mind," he said. "He can be ornery and obstinate but also has one of the biggest hearts of anybody I know."
Education was important to Puentes and he wanted to be a role model for Latinos. In 1994, he joined others to create a scholarship fund at Chemeketa Community College, named for his late son. Since then, the program has paid $279,960 in scholarships to 161 students, who must be bilingual to qualify.
Over the years, Puentes collected a string of honors, including Oregon's Minority Small Business Person of the Year by the U.S. Small Business Administration in 1991, Salem First Citizen in 2004, and induction into the national Tortilla Hall of Fame in 2011.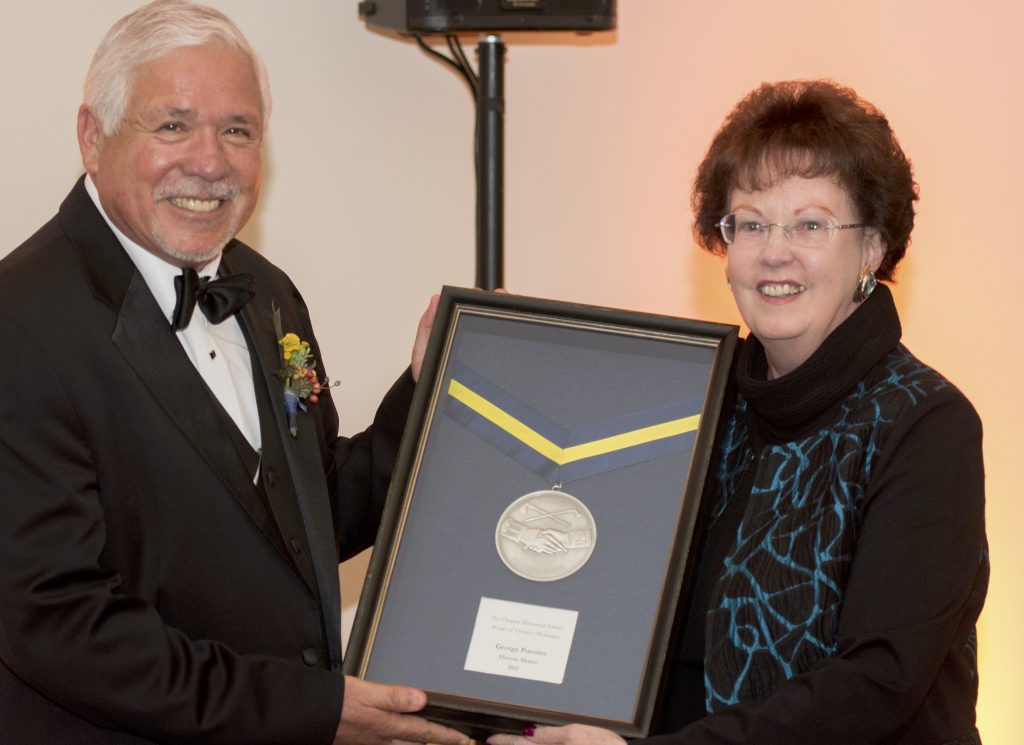 In 2015, the Oregon Historical Society awarded Puentes its Oregon History Maker Medal, given to those who "are positively shaping the history, culture, and landscape of Oregon."
Taylor was president of the society's board at the time and met Puentes for lunch to tell him the news.
"He was just so humble about it," Taylor said.
Puentes later recalled his initial reaction: "Why me?"
"As the co-founder of one of the largest Latino-owned businesses in the Pacific Northwest, a visionary community leader, and a generous philanthropist, George Puentes was truly worthy of being honored by the Oregon Historical Society as a History Maker," said Kerry Tymchuk, society executive director. "I was proud to call George a friend, and know that his legacy will continue to inspire Oregonians for generations to come."
After retiring from the tortilla business, Puentes acquired a home in Mexico and traveled extensively with his wife, Stephanie. He golfed, enjoyed classical music and was an enthusiastic fan of the Oregon State University Beavers.
"He loved jokes," Baez said. "A lot of them were bad jokes."
The family is planning a celebration of life at a later date.
Besides his wife of 27 years, Puentes is survived by his mother Hortensia Puentes, brothers Frank, Robert and Phillip Puentes, sisters Patricia Puentes and Monica Baez. He was preceded in death by his father Frank Puentes, sister Ruth Moghadam, his first wife Carol and their son George Jr.
STORY TIP OR IDEA? Send an email to Salem Reporter's news team: [email protected].
SUPPORT OUR WORK – We depend on subscribers for resources to report on Salem with care and depth, fairness and accuracy. Subscribe today to get our daily newsletters and more. Click I want to subscribe!
Les Zaitz is editor and CEO of Salem Reporter. He co-founded the news organization in 2018. He has been a journalist in Oregon for nearly 50 years in both daily and community newspapers and digital news services. He is nationally recognized for his commitment to local journalism. He also is editor and publisher of the Malheur Enterprise in Vale, Oregon.