Lively conversation at the Flight Deck Restaurant & Lounge hushed as onlookers gathered by the large windows overlooking the runway of the Salem Municipal Airport Thursday morning. The plane began moving, and someone turned up Elvis' "Viva Las Vegas" on their phone.
The first commercial flight from Salem in 15 years took off just after 10 a.m. to cheers and applause. Passengers touched down in Las Vegas at noon.
The departure came after a years-long, multi-million dollar effort from the city, local businesses and tourism groups which involved terminal renovations, new equipment and negotiations to bring Avelo Airlines to the airport.
The 149 seats on the first flight out were fully booked, and passengers included Mayor Chris Hoy, who is looking forward to seeing the band U2 at the Sphere venue this weekend; Travel Salem President Angie Villery and Salem Area Chamber of Commerce CEO Tom Hoffert, who wore a tropical shirt and shorts. It was foggy and chilly in Salem as the flight boarded, but would be 85 degrees in Las Vegas by the time they landed.
City Manager Keith Stahley wasn't on the departing flight, but has tickets on Avelo for November to go rock climbing outside Las Vegas. He said he was surprised at how emotional the departure event felt for himself and those involved.
"There's a sense of pride and fulfillment and relief, even, to see this plane sitting here this morning," he said.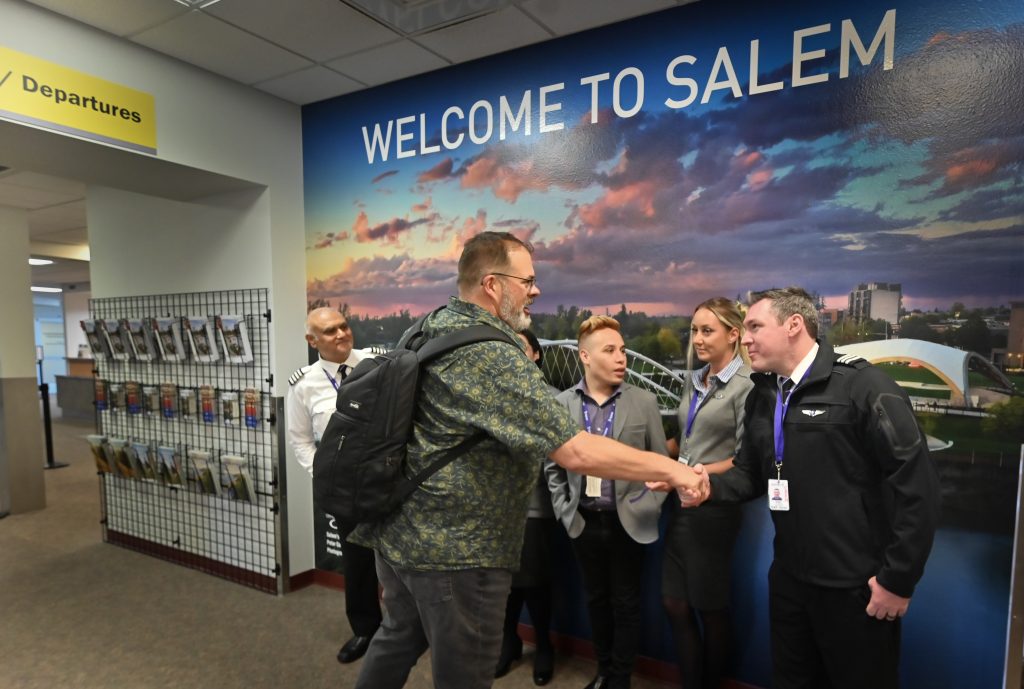 As stakeholders and media gathered for the fanfare of the first departure, some sleepy passengers who had deboarded from the plane's earlier arrival exited into Salem. The plane's home base is Las Vegas, and Avelo spokeswoman Courtney Goff said there were 29 inbound for the first arrival who had originally flown to Las Vegas from Portland.
Las Vegas is one of two twice-weekly routes Avelo is now flying out of Salem, with services also going to Burbank near Los Angeles. One-way fare starts at $44 to Las Vegas, and $49 to Burbank if passengers don't select seats or pay for extra baggage. Friday's inaugural flights to and from Burbank were over 90% full as of that morning, she said.
Salem last had commercial air service in 2008, when Delta pulled out after a year and a half of flights. In April, Hoy said the 50-passenger regional jets weren't economical to the company. He expects a different outcome with Avelo, whose flights will carry 150 to 190 passengers on Boeing 737 aircraft.
In January, the Salem City Council committed over $2 million for terminal improvements to bring the airport up to federal standards for commercial use. The funds went to design and construct Transportation Security Administration-compliant upgrades to windows, walls and flooring; plus new outdoor canopies and updated bathrooms. The money also paid for four months of fire and police service at the airport.
Last spring, the city received a $540,388 state grant to cover equipment and vehicle needs for the project. The airport also received an $850,000 federal grant and a $350,000 grant from Travel Salem using private donations to use for minimum revenue guarantees, money airlines can apply for if they fail to meet targets during the first few years of operation.
Avelo announced its launch at the Salem airport in April. The budget airline launched around two years ago, and has locations across the country including in Eugene.
Goff said Avelo is still looking into making Salem a base if passenger counts meet projections, and is working to expand its fleet.
Avelo CEO Andrew Levy, who was at the Salem airport Thursday morning, said he couldn't be more excited. He said the sizable community in Salem who typically have to drive to Portland was a major draw, and that the city has been incredibly supportive and collaborative.
"This is just a wonderful airport. You park right in front, you walk in, you're through security, you're on the plane and you're gone. It's literally maybe five minutes. Maybe ten, if there's a little bit of a line," he said. "I've never met anybody who doesn't love that kind of experience as compared to going to the bigger airport."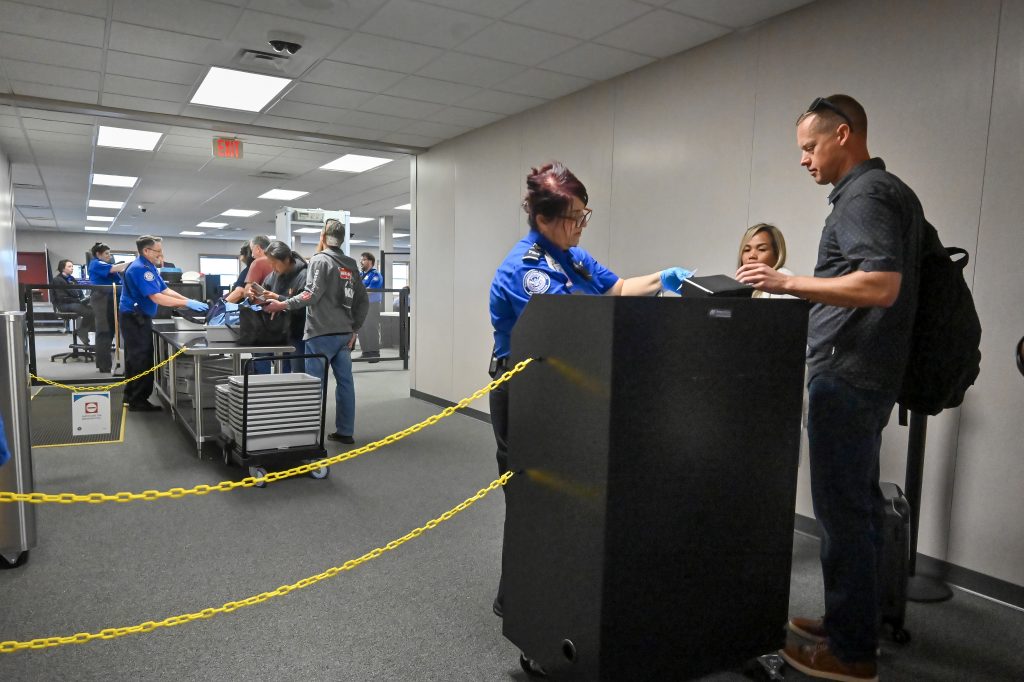 Several city councilors were present for the ribbon cutting ceremony. Councilor Julie Hoy was a later arrival, sequins on her jacket flashing as she walked briskly to the TSA line to board for her Las Vegas trip.
Those who weren't flying out that morning headed to the Flight Deck Restaurant & Lounge for a view of the takeoff.
Irine Bernards, Travel Salem's chief marketing officer and executive vice president said Travel Salem is encouraged by the ticket sales, and believes the move will bring more tourism to the city, wine country and the greater Willamette Valley.
Chamber president Alan Rasmussen's company Modern Building Systems built the original terminal in 2007 and subcontracted for renovations. He said he expects a lot of visitors in the government and business sector to spend money in local businesses and restaurants.
"It was a touchy topic with the general fund expense, but I really feel like this was a great investment," he said, and the first step ahead of continued airport development. "It will be a revenue creator."
Stahley addressed the group gathered there. He thanked donors, airport staff and the work of Travel Salem and the Salem Chamber.
"This definitely would not have happened without them. We had cooperation with Marion County, yes Marion County and the City of Salem can cooperate. And we have proof, they gave us $50,000 last year, and are giving us $50,000 next year for this facility," he said to those gathered.
Stahley said the biggest thank you went to the City Council for their January 9 vote to fund renovations.
"Literally millions of dollars. The construction project cost about $2 million, operating the airport's about $750,000 out of the general fund – and trust me our general fund does not have $750,000 lying around. So they took an extraordinarily big risk here, and a big bet on the future of Salem and I thank them for that," he said.
Councilor Virginia Stapleton told Salem Reporter she was amazed at what had been accomplished, and that she's excited to see the investment pay off.
"I think that this council really believes in the city of Salem, really believes in this area of the valley and wants to highlight and is proud of everything that's here, and I think it's just really exciting," she said. "There's so many positive things happening in the city of Salem right now, and we can get bogged down with negativity on maybe one or two topics, but overall the amount of positive things that are happening in the city right now is kind of overwhelming."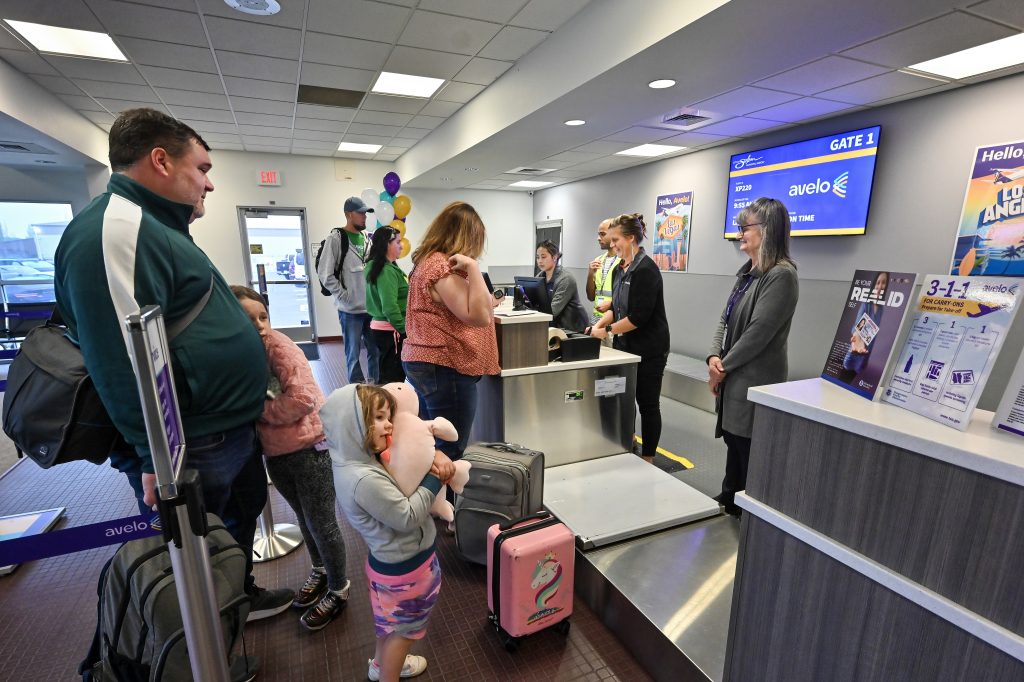 Contact reporter Abbey McDonald: [email protected] or 503-704-0355.
SUPPORT OUR WORK – We depend on subscribers for resources to report on Salem with care and depth, fairness and accuracy. Subscribe today to get our daily newsletters and more. Click I want to subscribe!
Abbey McDonald joined the Salem Reporter in 2022. She previously worked as the business reporter at The Astorian, where she covered labor issues, health care and social services. A University of Oregon grad, she has also reported for the Malheur Enterprise, The News-Review and Willamette Week.