This weekend, more than 80 racers from 14 countries will come to the Soap Box Derby Hill in Bush's Pasture Park to compete in the 2023 World Championships of Slalom Skateboarding.
The event is sanctioned by the International Olympic Committee-recognized governing body, World Skate. Organizers hope it will be a first step toward bringing more legitimacy (and funding) for this type of racing.
"There are a lot of people at Bush Pasture Park that have seen us practicing and are very supportive. But slalom skateboarding is kind of a niche within the skateboarding world, and it doesn't receive the same kind of funding and publicity and sponsorship levels that others do. But we're really hoping we can change that," said local racer Lari Rupp of Silverton.
Slalom racing has been part of skateboarding since the 1960s but has never been part of the official Olympic lineup. Groups like the International Slalom Skateboarding Association have been trying to formalize the sport's rules and points system to ultimately convince officials to add slalom skateboarding to Olympic cycle events.
Rupp works in community services for Marion County and has been skateboarding for 20 years. She started slalom racing two years ago after a fellow skater convinced her to sign up for her first slalom competition. 
In that inaugural competition, Rupp gathered enough points to qualify for the world championships in Argentina. She's since fallen in love with the sport, and credits her success to Oregon's thriving skate parks.
"Here in Salem, we're so special because we've got huge skate parks and a lot of opportunity. We have insane talent here in Oregon. We're willing to skate really fast and really aggressively," Rupp said. "That's really the hallmark of slalom racing in Oregon. We just like to go so big. We love to charge it as hard as we can."
This weekend's course begins with an 8-foot-tall ramp that drops racers onto the derby track. From there, competitors move as quickly down the course as possible, weaving in and around cones.
Unlike other forms of skateboarding, slalom racers don't get points for tricky flips or board holds. Instead, speed is key. Accuracy matters too.
Hitting cones on the course adds time to the run and can reduce a racer's chance of winning.
Typically, slalom courses are set up on closed city streets or in parking lots. When they're not competing, racers are sitting on the curb in the hot sun.
The Soap Box Derby hill in Bush's Pasture Park offers something new.
"Not very often do you race in a beautiful, park-like setting," said local racer Pete Ingraham, co-owner of Blast Off Vintage. "And the hill is amazing. It's the perfect length and grade for speed."
Ingraham has been skating in Salem since the 1970s and converted to racing in 2003. "Forty years old is a little old is a little old for skating the bowls in the backyard pools. I'd still try, but the downhill was a little more gentle on the body. You crash a little bit less, hopefully," he said.
"Since we're racing the clock, we're not fighting each other for judging for style. We're really up against the clock and ourselves. It makes it so our sportsmanship and our support and love for one another is just really outstanding," said Rupp.
Races will be held Friday, Sept. 29, and Saturday, Sept. 30, from 8 a.m. to 6:30 p.m. and Sunday, Oct. 1, from 10 a.m. to 5:30 p.m.
Racers can register online and compete in giant, tight, or hybrid slalom competitions. Spectators are welcome, and there's no fee to watch the action.
Several Oregon racers will compete this weekend. Pros from countries like Norway, Canada, Latvia, and Brazil will be present too. Several ages and generations of racers will participate, including some parent-child teams traveling to Salem to try the slalom course.
"A lot of the racers have been racing since the 70s. I'm in the grand master division, which is 60 and older, and I think there are a dozen of us," Ingraham said.
Cash prizes, gear, and medals are available for race winners. But the points remain the major driver for competitors. Official events like this can boost a racer's standing and allow them to qualify for prestige-level races very quickly.
Camaraderie is an important part of the festivities too, especially among local racers.
"We all represent Team USA officially. We really work together as a team to lift Team USA up to the top. We push one another together to the top of the world rankings. We've really been working as a team, selflessly and supportively, to have Team USA just dominate," Rupp said. "We're grateful to the city of Salem for keeping such a wonderful park and supporting us."
If you can't make it to Bush's Pasture Park this weekend, officials will host a livestream of the event on the official World Skate Channel, complete with commentary that explains how each race works and who won. Get more details on the event website. 
This article was updated to clarify that Lari Rupp has been skateboarding for 20 years, but not exclusively in the Salem area.
Jean Dion is a freelance writer based in Salem. Contact her at [email protected].
STORY TIP OR IDEA? Send an email to Salem Reporter's news team: [email protected].
SUPPORT OUR WORK – We depend on subscribers for resources to report on Salem with care and depth, fairness and accuracy. Subscribe today to get our daily newsletters and more. Click I want to subscribe!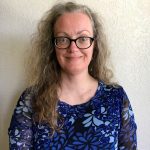 Jean Dion is a freelance writer and marketing professional. She's lived in Salem for about 10 years. When not writing, she dabbles in gardening, photography, and caring for her dogs, cats, and rabbits.