Rain may have been in the forecast, but that did not deter crowds from attending the inaugural Viva Salem festival at Riverfront Park on Saturday.
There was much to see and do, plenty of delicious food cart offerings, and live performances all day from cultural dancing to live music on stage. Also featured were many different types of community booths with information on everything from community health to neighborhood services.
There was a special appearance by local basketball celebrity Evina Wetstbrook, a South Salem alumna who is now playing under contract for the Los Angles Sparks Women's professional basketball team. Mayor Chris Hoy also read a proclamation on stage acknowledging Saturday, Sept. 23 as a day to support Latino owned business in Salem.
STORY TIP OR IDEA? Send an email to Salem Reporter's news team: [email protected].
SUPPORT OUR WORK – We depend on subscribers for resources to report on Salem with care and depth, fairness and accuracy. Subscribe today to get our daily newsletters and more. Click I want to subscribe!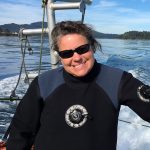 Laura Tesler has lived in Salem, Oregon for 20 years and is originally from Flint, MI. Laura has been an underwater photographer for 15 years, and is an avid scuba diver. Topside, she has been taking photographs since age 12, and currently works on assignment for the Salem Reporter, and full time purchasing land for fish and wildlife habitat in the Willamette Valley. Laura attended Oregon State University, and has traveled extensively all over the world and the United States.