Salem's latest street mural now adorns an intersection in the South Central Association of Neighbors, celebrating the Kalapuya people who cultivated the plants in the Willamette Valley.
The mural is next to Bush's Pasture Park, painted on the intersection of Southeast Leffelle Street and Southeast Church Street. It was installed on Sept. 3, with a neighborhood celebration the next day.
The design, by Salem-based Artist Jessica Ramey, called "The Halcyon Days," was inspired by the history and ecology of the neighborhood.
"The Halcyon Days mural celebrates our diverse history and the lasting ecology of our unique neighborhood," artist Jessica Ramey said in a statement. "Long before white men settled in Salem, graceful Oregon White Oaks spread their canopies to shelter native fauna and flora. Just steps into the park, we can still discover the complex environment of animals and iconic flowers that connects us to this land."
It's the latest installation in a series of eight murals planned for Salem, each given a $1,000 grant from Travel Salem. It's the fifth mural installed by neighborhoods, and also received support from the Moxie initiative.
In July, west Salem installed its mural on the intersection of Northwest 2nd Street and Northwest Kingwood Avenue.
CORRECTION: This is the fifth mural to be installed in Salem, of eight funded by Travel Salem. Salem Reporter apologizes for the error.
STORY TIP OR IDEA? Send an email to Salem Reporter's news team: [email protected].
SUPPORT OUR WORK – We depend on subscribers for resources to report on Salem with care and depth, fairness and accuracy. Subscribe today to get our daily newsletters and more. Click I want to subscribe!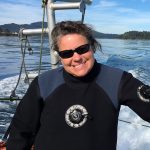 Laura Tesler has lived in Salem, Oregon for 20 years and is originally from Flint, MI. Laura has been an underwater photographer for 15 years, and is an avid scuba diver. Topside, she has been taking photographs since age 12, and currently works on assignment for the Salem Reporter, and full time purchasing land for fish and wildlife habitat in the Willamette Valley. Laura attended Oregon State University, and has traveled extensively all over the world and the United States.