Joyce Stringer's home stinks, but it's still standing.
The Liberty Fire, which ultimately forced 630 households and businesses to evacuate and burned down about 25 acres and two outbuildings Wednesday afternoon, came within feet of her home on Jory Hill Road and wrecked her pasture and fence.

Thursday morning, Stringer and her children took careful steps through their pasture and the adjoining property. What once was a space for their sheep to graze had turned black, with scorch marks reaching up to their fence and smoke damage tinting the sides of her cream and green colored home.

In the adjacent property, beyond a wire fence warped by the heat, what was once an impassable jungle of blackberry bushes had disintegrated into several inches of soft ash, bunches of the burnt berries and hornets crawling from their uncovered ground nests. It's where the fire burned the hottest, Stringer said.

"It looks a lot different here, now, than it did 24 hours ago," Stringer said.
An immediate and heavy response from fire crews stopped the rapidly spreading wildfire that was threatening subdivisions in south Salem the day before.
Crews contained the Liberty Fire by 7:15 p.m. Wednesday – about four and a half hours after it was reported – and area residents subsequently got the green light to return home. No humans or animals were injured, and the cause of the fire remains under investigation.
Salem Emergency Manager Joe Hutchinson confirmed Thursday morning that the fire was completely out. But with temperatures in the low 90s and low humidity in Salem's forecast, residents near the fire location are instructed to "be set" to evacuate if weather conditions worsen.
As of Thursday afternoon, Hutchinson said the fire remained under investigation.
Early aid on fire saved homes

Firefighters first got reports of a grass fire at 2:48 p.m. Wednesday in the 6300 block of South Liberty Road.
Early on, responders got outside help that they say was pivotal in stopping the blaze.
Excavators with Salem-based Emery & Sons Construction were working at a subdivision north of Jory Hill when they saw smoke. The workers immediately got on their heavy equipment and began cutting fire lines in nearby dirt to stop it from spreading. Stringer said they worked late into the night.
Hutchinson said their intervention slowed the blaze, allowing fire teams to quickly control it from the air. "They probably saved a good chunk of community around that fire," he said.
The fire started low in a grassy area before spreading to trees and brush, according to Hutchinson. He said wind direction and low humidity contributed to the fire's growth.
The Salem Fire Department called in multiple agencies for backup including the Oregon State Fire Marshal's Office. "Once they were able to get in the air and see the location, we didn't wait. We crafted the (evacuation) message," Hutchinson said.
About an hour after the initial report, emergency managers ordered a Level 3 evacuation for residents west of South Liberty Road and South Jory Hill Road, meaning people should leave immediately.
About 70 fire rigs from seven agencies responded to the Liberty Fire. That included the Salem Fire Department, Marion County Fire District No. 1, and fire crews from Keizer, Stayton, Turner, Jefferson and Mount Angel.
Police vehicles blocked several surrounding roads as Marion County sheriff's deputies went door-to-door knocking to clear the area of residents.
Meanwhile, the Oregon State Fire Marshal's office brought in air tankers to drop water on the fast-moving fire.
"Without those air units, it could have been catastrophic," Hutchinson said.
The responding agencies formed a unified command at Crossler Middle School, where they monitored the fire using satellite map imagery and drones.
Hundreds evacuated
Evacuees were eventually directed to go to Judson Middle School if they had nowhere else to stay.
There, the Red Cross offered food and snacks as a handful of evacuees waited for word about their homes and properties. The emergency response group was prepared to set up hundreds of beds for overnight stays if the situation worsened. The group also had a box full of stuffed animals in case any kids showed up.
As the sun began to set around 8:30 p.m., they ordered pizzas for those gathered.

Henry Bodkin, a Red Cross casework supervisor, has helped during previous fires, including the Vitae Springs Fire that burned over 100 acres last September. The Liberty Fire evacuations brought back memories of summers past.

"There's been so many fires at this point, I don't care about the names of them. I just care about helping people," Bodkin said.

For hours Wednesday evening, residents and volunteers waited for updates that came through phone calls to friends and officials. Springer repeatedly checked her wifi-enabled security system, figuring that if the wifi was working, then her home must still be standing.

Several Salemites brought empty horse trailers to the middle school, awaiting the signal to go rescue animals in need.
The Salem equine community uses online groups, including Cowgirl 911, to coordinate rescues during the fire season with phone trees and Facebook. Kathleen, who declined to give her last name for privacy, was there with a group who had saved horses during the 2020 fires.
Kathleen said Oregon doesn't have very good official communication when it comes to saving animals during wildfires, which puts horses and owners at risk annually.
"The biggest challenge in 2020 was that there was no organization," she said, which sent people into dead end roads or dangerous situations. "So there was a huge need and there was a grassroots effort, and it stayed and maintained as a grassroots effort."

Wednesday night, Jory Hill Stables evacuated 30 horses. A church across the street was reserved for those needing to leave livestock.

Adam Johnson, a local business owner who volunteered to help, was waiting with Kathleen at the middle school. He said that he got a call to come help move the horses and drove over.
"That's just what we do," said Johnson.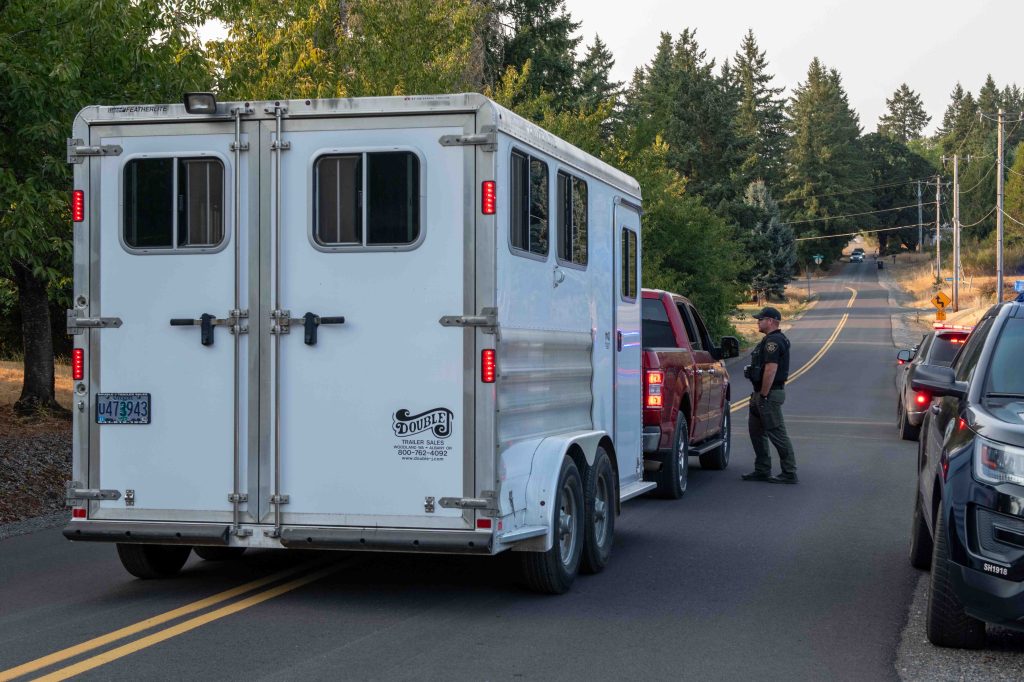 Emergency managers downgraded evacuation levels around 10 p.m., putting the area closest to the fire under a Level 2 evacuation, meaning residents should be set to leave at a moment's notice.
Areas north and south of the fire were downgraded to a Level 1 evacuation, meaning residents should be ready for potential evacuation.
The evacuation center at Judson closed around 10:30 p.m. Hutchinson said he wasn't aware of anyone staying overnight.
It was the second major fire to hit south Salem in less than a year. The larger Vitae Springs Fire in September 2022 burned nearly 165 acres in south Salem and forced an estimated 119 single-family households to evacuate their homes.
Brian Carrara, deputy chief of administrative services for the Salem Fire Department, said in August that the cause of the Vitae Springs Fire could not be determined.
Despite the devastation at her home, Stringer was in an optimistic mood Thursday morning as the dust settled. The house, which has been in her family for 62 years and four generations, is relatively untouched. The smell inside is nearly unbearable, though, and her lungs have begun to ache from the stench of smoke both inside and in the pasture. She's airing the home out and plans to replace all her furniture.
The Stringers were spending the morning assessing damage to their fence, and spotting little fires and hot spots to tamp down.

Joyce's daughter, Sara Stringer, approached and waved an empty plastic water bottle.

"There's little flames popping up, just doing my due diligence, squirting them out," she said, and laughed. Her mom shook her head, but smiled.

By 10 a.m., the family was already fielding visitors, between the fire department, people she called to check in on the health of their sheep – who survived but were very close to the fire – and neighbors checking in to see the damage. A friend will be bringing over hay for her animals, whose grazing space was now charred.

Stringer said another neighbor's property saw the worst of it, with both structures that burnt down being on her land.
Looking ahead

The National Weather Service is forecasting temperatures in the early 90s through Sunday in Salem.
If areas that are still smoldering from Wednesday's fire reignite, emergency managers would have to reissue a Level 3 "go now" evacuation, according to Hutchinson. He said fire crews are monitoring such hotspots.
"Weather reports indicated breezy conditions for Marion County with increased temperatures and low humidity. The incident command urges residents to have a plan in case the fire gets worse and to stay informed by monitoring local and city-wide news channels," the city of Salem said in a news release Thursday afternoon.
Hutchinson said communication during the fire was clear between the responding agencies. He urged people to sign up for FlashAlerts and emergency notifications to receive the quickest alert to evacuate.
Current evacuation maps are posted on the Marion County Emergency Management website.
Hutchingson said the city will review the fire response to determine if any areas need improvement.
"I don't know of any major gaps or negatives at this time," he said. "From my vantage point and everything I've been involved in, it went very well. It could have been a lot worse."
Reporter Natalie Sharp contributed reporting.
Contact reporter Abbey McDonald: [email protected] or 503-704-0355. Contact reporter Ardeshir Tabrizian: [email protected] or 503-929-3053.
SUPPORT OUR WORK – We depend on subscribers for resources to report on Salem with care and depth, fairness and accuracy. Subscribe today to get our daily newsletters and more. Click I want to subscribe!