Salem Art Association
600 Mission St. S.E.
Hours: Wednesday-Friday, 11 a.m. – 5 p.m. and Saturday-Sunday 12 – 5 p.m.
Admission: Free
CELEBRATING FOOD: How We Grow Our Food: The final harvest
Through Aug. 27
Eight Willamette Valley artists will showcase their work that focuses on the importance of growing food. Their work features a range of styles and media, and has subjects ranging from landscapes to detailed studies of fruit.
There will be an opening exhibition in the Focus Gallery on Friday, Aug. 4, from 5:30 – 7:30 p.m.
SURREAL LANDSCAPES: Expanding Horizons: Art as the key to awakened consciousness
Aug. 4-6 and Aug. 19-27
Oil painter Samuel Hoskins crafts dreamlike landscapes, and has an interest in drawing beauty from basic pigments, oil and dirt by boiling, mulling and filtering raw materials.
"This juxtaposition of beauty, significance, and exploration gives birth to new realms. It is my hope that within each microcosm, the depicted imagery sparks something within you, whether or not you can consciously express the insights gained," the artist statement reads.
There will be a reception on Friday, Aug. 4, from 5:30 – 7:30 p.m.
STONE AS ART: Ripple Effect
Through Aug. 27
Curators Kentaro Kojima, Stephanie Robison, and Benjamin Mefford have brought together 19 artists for a stone sculpture exhibition. Ripple effect explores how the knowledge of the arts is passed on through mentorship and teaching.
"We three co-curators each work in multiple mediums, but it is safe to say that stone sculpture is nearest and dearest to our hearts," they said on the association's website. "Stone is a material that, in searching out others to learn from, has brought us into each other's lives, and likewise served as a bridge that has connected all of the artists in the exhibition."
ART FROM SALVAGE: The Key & The Towers
Through Aug. 26
Brothers Santigie and Sapata Fofana-Dura have shared three new sculptures crafted from wood and metal.
Using salvaged Pacific Northwest wood and intentional burning, the architectural sculptures have an intriguing finished look.
Hallie Ford Museum of Art – Willamette University
700 State St.
Hours: Tuesday-Saturday, 12 – 5 p.m.
Admission: $8 general, $5 seniors over 55, free to people under 17, students and members
A LIFETIME OF ENGRAVING: Jim Hibbard: Back in View
Through Aug. 12
"Back in View," looks at the 40-year career of Jim Hibbard, a master engraver who also worked in lithography and printing.
After retiring from teaching at Portland State University, Hibbard moved to Guanajuato, Mexico, where he worked for 25 years before his death in 2022, according to the museum.
The Hallie Ford Museum will display his later work, developed in Mexico, for the first time alongside his better-known Portland pieces.
A CAREER IN SATIRICAL ART: Tom Prochaska: Music for Ghosts
Through Aug. 26
Portland Artist Tom Prochanska uses paint, drawing, prints and glasswork to explore open-ended narratives through figures in a variety of settings from cafes to desolate landscapes, in situations with humor and satire.
The exhibition, curated by Jonathan Bucci, features 70 works, including rarely seen early pieces, across 50 years. The exhibit will also have new paintings on view for the first time.
"With a wry smile, Tom tells stories that feel simultaneously vague and specific, walking a line between abstraction and representation. His imagery and compositions emerge from the interplay between material and process, lending themselves to the different mediums he effortlessly shifts between," Bucci said in the exhibit's description.
Salem on the Edge
156 Liberty St. N.E.
Hours: Wednesday-Thursday 11 a.m.-5:30 p.m., Friday-Saturday 11 a.m.-6 p.m., Sunday 12 – 4 p.m.; closed last Sunday of the month
Admission: Free
ART MADE IN SALEM PARKS: En Plein Air Invitational Show
Through Aug. 26
On Saturday, Aug. 5, artists will take their canvases to Riverfront Park, Bush Park and downtown Salem to reflect the world around them into new art. En plein air is a French phrase for painting outdoors.
The artists' work will be hung on the Salem on the Edge gallery wall before it dries.
That evening, there will be a reception from 5-7:30 p.m. with appetizers and beverages, and a chance to meet the artists. The show features over 20 artists, and includes landscapes made throughout the state.

Katia Kyte, one of the En Plein Air artists who will be showcased, will stop by the downtown gallery for a demonstration on Aug. 19, from 1-2:30 p.m.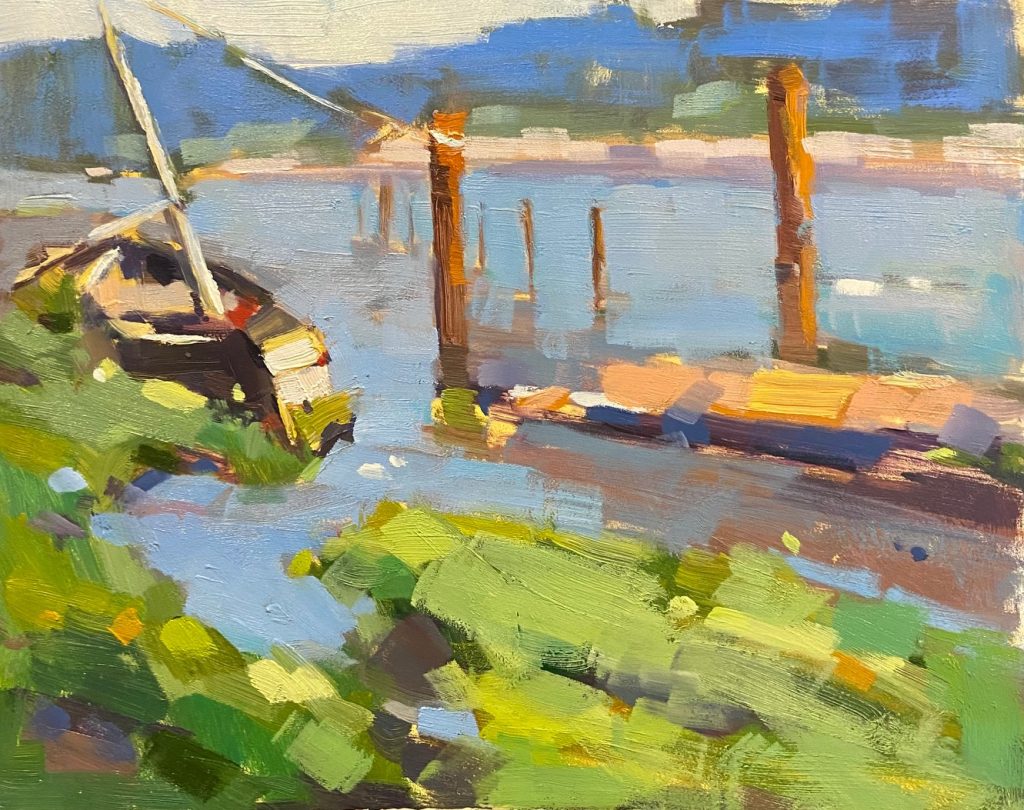 Willamette Heritage Center
1313 Mill St. S.E.
Hours: Tuesday-Saturday, 10 a.m. – 4 p.m.
Admission: $10 adult, $8 seniors over 65, $6 students and children age 6-17
COMMUNITY HEALTH: To Your Health
Through Oct. 7
Prompted by the renewed focus on health during the Covid pandemic, the Willamette Heritage Center invited museums and community organizations in the area to share artifacts to address questions of what it means to be healthy, and how that idea has changed over time.
Contact reporter Abbey McDonald: [email protected] or 503-704-0355.
SUPPORT OUR WORK – We depend on subscribers for resources to report on Salem with care and depth, fairness and accuracy. Subscribe today to get our daily newsletters and more. Click I want to subscribe!
Abbey McDonald joined the Salem Reporter in 2022. She previously worked as the business reporter at The Astorian, where she covered labor issues, health care and social services. A University of Oregon grad, she has also reported for the Malheur Enterprise, The News-Review and Willamette Week.