A hot weekend didn't keep the crowds away from steam engines or the blacksmith shop at Powerland Heritage Park.
The 53rd Great Oregon Steam-Up returned over the weekend and continues Friday, Aug. 5, and Saturday, Aug. 6, at Powerland Heritage Park, at 3995 Brooklake Rd. N.E.
The all-ages event includes demonstrations of blacksmithing, logging and other crafts, along with a parade of heavy equipment.
The event runs from 7 a.m. to 6 p.m., with a daily parade of machines at 1:30 p.m. A full schedule of the festival is online.
Tickets are $17 for adults, $12 for students and free for kids 12 and younger. The August dates will be free for veterans in uniform or with military I.D. Parking is $5.
STORY TIP OR IDEA? Send an email to Salem Reporter's news team: [email protected].
SUPPORT OUR WORK – We depend on subscribers for resources to report on Salem with care and depth, fairness and accuracy. Subscribe today to get our daily newsletters and more. Click I want to subscribe!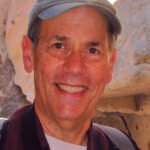 Eric Schuman of Salem is a retired physician associate whose interests include pet therapy and photography.