Roy was barely making ends meet when he reached out to Melinda Freshour.
The Salem man's Social Security check was just enough to cover the monthly rent on the land where he and his wife lived in a manufactured home.

They'd been getting by because Roy's wife – then in her 80s – was still working at McDonalds. After she died of Covid, he also faced a rent increase. He came to United Way of the Mid-Willamette Valley looking for help,
Freshour met Roy in late 2021, when she was helping county residents apply for rental assistance as United Way's donor steward.
For her, he was the perfect illustration of a problem she saw too often: seniors in danger of homelessness as fast-rising rents outpaced their fixed retirement income.
United Way leaders hope to break ground this year on a unique development in northeast Salem meant to be affordable for seniors like Roy who struggle to afford housing on Social Security alone.
Called Cottages United, the development is a community of 25 400-square foot cottages located on either side of Northeast Market Street next to Swegle Elementary School.
Rent on the units would be capped at $500 a month, intended to be affordable for those living on an average Social Security payment, and houses would be for single seniors or couples 55 and older. Cottages would have a kitchen and be friendly to seniors with disabilities, with grab bars in showers and doors wide enough for wheelchairs.
Rhonda Wolf, United Way CEO, said their organization looks to fill gaps in existing services in Salem. She said projects like this are badly needed to help prevent seniors from sliding into homelessness.
"If we were to open tomorrow, by the end of the day tomorrow it would be filled," Wolf said.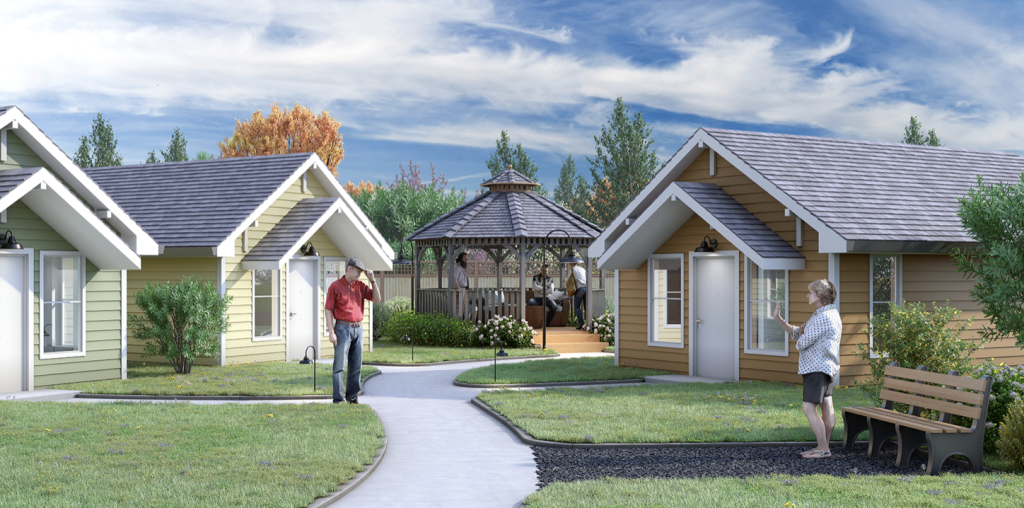 Wolf expects the development will cost about $3 million — roughly $110,000 per cottage.
Wolf said United Way has talked with Swegle Elementary leaders and the Center 50+ about partnering on activities or volunteer work.
"We don't want the seniors to just be holed up in their house," she said.
The nonprofit bought three parcels of land for the project in May 2021 from the city of Salem for a total of $60, Wolf said. The site is at 4432 Market St. N.E.
The project idea began years ago, but construction plans were delayed due to Covid and the 2020 wildfires as United Way pivoted to respond to more immediate needs.
"We were well on our way to getting this designed and built relatively affordably," said Jordan Truitt, United Way's board vice chair, who's worked on the project. But he said the escalation in construction material costs over the past two years have sent leaders back to the planning phase, seeking donor help to get the project off the ground.
Now, Wolf and Freshour said they're turning United Way's full attention to a fundraising drive and hope to break ground on at least the first set of 10 cottages by the end of the year.
The nonprofit is able to finance about half the project cost, Truitt said, and hopes to raise the remainder. Raising more could allow United Way to lower rents, since rent money wouldn't be needed to pay off a loan.
About $500,000 would allow United Way to move forward with the first set of 10 cottages, Wolf said, though they hope to build the full village at the same time to save money. Building would take about a year on the first set.
Donors can contribute online, and money raised is earmarked for cottages. Wolf said if they end up raising more than they need to build this cluster of cottages, they'll look for more sites for more tiny homes.
They're awaiting city approval on site plans and will then move forward with building permits.
Freshour would serve as the property's manager and has a background in rental management. She has a list of interested tenants, some of whom she met while helping them apply for rental assistance, and others referred to United Way. Many said they simply wanted a place where they could plant their own flowers or not have to worry about moving every few years.
Roy was one of the seniors on her list, and Freshour stayed in touch with him via his property manager.
When he learned about the project, "he said, this is absolutely what would meet my need … He was delightful," she said.
In the summer of 2022, she called and learned Roy had recently died.
"It was one of those things that continued to light a fire under us," she said. "Time is of the essence. We have to get this done."
Contact reporter Rachel Alexander: [email protected] or 503-575-1241.
JUST THE FACTS, FOR SALEM – We report on your community with care and depth, fairness and accuracy. Get local news that matters to you. Subscribe to Salem Reporter. Click I want to subscribe!
Rachel Alexander is Salem Reporter's managing editor. She joined Salem Reporter when it was founded in 2018 and covers city news, education, nonprofits and a little bit of everything else. She's been a journalist in Oregon and Washington for a decade. Outside of work, she's a skater and board member with Salem's Cherry City Roller Derby and can often be found with her nose buried in a book.