The gun debate played out on Monday in the Senate Judiciary Committee, with Oregonians at odds over whether the state should have a permit system to purchase firearms.
If the debate sounds familiar, that's because it is. Senate Bill 348 would build on Measure 114, which voters passed in November. That law bans high-capacity magazine sales and enacts a permit-to-purchase system. But Measure 114 is on hold as it faces challenges in federal and district courts.
Senate Bill 348 would postpone the permit requirement for most firearms until July 2024 and some weapons, like hunting rifles, could be purchased without a permit until 2026. People would have to be at least 21 years to apply for a firearm.Critics say the bill is an attempt to circumvent the judicial process. But Sen. Floyd Prozanski, D-Eugene, chairman of the Senate Judiciary Committee, said lawmakers have a duty to implement approved ballot measures to the best of their ability. His committee discussed the bill in two separate hearings on Monday. It faces a vote on Thursday.
Elizabeth Howe, a lobbyist with the Oregon Alliance for Gun Safety, said during the hearing that the bill would put a safer system in place, with an improved background check system and ensure law enforcement have tools they need to issue permits.
Another supporter, the Rev. W.J. Mark Knutson, a chief petitioner for Measure 114 and pastor of Augustana Lutheran Church in Portland, called the bill "a bellwether for the nation." Though he is concerned about the two-year delay on the permitting process for some guns, he said the bill has "many good things."
"People are looking to Oregon," Knutson said.
The bill is the latest among several proposals in the Legislature that would change the laws for gun ownership. House bills 2005, 2006 and 2007 would try to limit untraceable guns, raise the minimum age from 18 to 21 to purchase powerful firearms like semiautomatic weapons and allow local agencies to ban firearms on government property.
The hearing came on the same day as a mass shooting in a Tennessee school that took the lives of six people besides the shooter.
Opposition to the firearms bill
Fewer than 10 testified in support of the bill, while more than 50 testified against it during the two-hour hearing. In the submitted written testimony, lawmakers received more than 900 letters of opposition and 16 letters of support.
Sen. Kim Thatcher, R-Keizer and vice-chair of the Senate Judiciary Committee, said the bill attacks constitutional rights.
"There will be costly challenges and it will cost the state a lot of money to implement at no return," Thatcher said.
The Oregon state director of the National Rifle Association, Aoibheann Cline, called the bill a "disingenuous attempt to usurp the authority of Oregon courts."
Cline said the bill goes beyond Measure 114, with an increase in the age requirement and an increase in fees.
"This bill and Ballot Measure 114 are the start of the systematic end to lawful gun ownership in Oregon – lawful gun ownership," Cline said. "Criminals will continue as they do to gain access to firearms through illegal means."
Martin Claxton, who became a naturalized citizen nearly 20 years ago, said he didn't see anything about needing a permit to buy a gun when he took his citizenship exam.
"This bill, if passed, sees fit that I will need permission from the state to go buy a gun," Claxton said. "Who concocts such nonsense?"
Claxton added: "This bill is just a nasty and vindictive attack on the state's law abiding gun owners."
Oregon Capital Chronicle is part of States Newsroom, a network of news bureaus supported by grants and a coalition of donors as a 501c(3) public charity. Oregon Capital Chronicle maintains editorial independence. Contact [email protected]. Follow Oregon Capital Chronicle on Facebook and Twitter.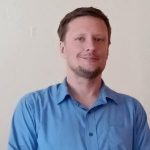 Ben Botkin - Oregon Capital Chronicle
Ben Botkin covers justice, health and social services issues for the Oregon Capital Chronicle. He has been a reporter since 2003, when he drove from his Midwest locale to Idaho for his first journalism job. He has written extensively about politics and state agencies in Idaho, Nevada and Oregon. Most recently, he covered health care and the Oregon Legislature for The Lund Report. Botkin has won multiple journalism awards for his investigative and enterprise reporting, including on education, state budgets and criminal justice.