Your next cup of coffee or scoop of ice cream could get you thinking about how you talk to, interact with, or refer to people with disabilities.
That's the hope of organizers at Shangri-La, a nonprofit human services organization with offices in Salem and Eugene.
This week, Shangri-La will distribute 12,000 napkins to more than 20 businesses in the Salem area. The bright yellow napkins are printed with messages about how disabilities might appear, how people with disabilities might prefer to be referred to, and how to talk with someone with disabilities.
One napkin reads: "Make eye contact and speak directly to a person with disabilities, not their companion, aide, or interpreter. If communication assistance is needed, then the support person can help facilitate."
Another reads: "Avoid outdated terms like retarded, crippled, challenged, or handicapped. Person or people with disabilities, disabled person or people, and disability community tend to be more preferred language."
The messages were chosen by Shangri-La's staff and the people they serve. The organization works with people with intellectual and developmental disabilities, serious and persistent mental illness, and families that get support from the Oregon Department of Human Services.
The napkins are designed to spark conversations between friends and relatives sharing a meal.
Ashley Erb, director of community engagement at Shangri-La, hopes they'll do more. "If you've never even thought about the topics on the napkins before, yes, let's start with a conversation. But we know that conversations don't make change happen necessarily. I think secondarily we want people to take the information on the napkins and put it into practice," Erb said.
The project has its roots in conversations.
"I don't know that there's any ill intent, but times have changed and progress has happened. People come to us and aren't sure how to refer to our community, and some people don't talk directly to people with disabilities. They speak to their support staff instead," she said.
"I wanted to do something creative that gives people a moment to pause. How can we get in front of people in a comfortable space? I love food, I love to eat, I love to go out to all of the local establishments," she said. "I think some of the best conversations I've ever had have been over ice cream or a glass of wine at a winery. So I thought: Maybe we could use napkins as the vehicle to get people to start to have these conversations and do it in a way that doesn't feel traditional like a billboard or a brochure," she said.
When the project launched last year, Erb wasn't sure how well it would work. She ordered 2,500 napkins printed with messages chosen by the staff. Once she sent her napkin order to the printer, her doubts faded.
The printer sent an email telling Erb the napkins were printed and ready to ship – and she added a note.
"She also wrote: 'I just have to tell you that the team that worked on printing your napkins just had a 45-minute conversation about the content and wouldn't have had it without that experience. So you're really onto something here.' And that's when we knew we'd really hit on a great idea," Erb said.
Once napkins moved throughout Salem, Shangri-La received several requests from local businesses wondering how they could get napkins and become part of the project.
And one business contacted Shangri-La about hiring someone from their community to do cleanup work.
"Who knew little yellow napkins could do so much?" Erb said.
Lindsay Pilapil, owner of the food cart The Easy Otter, participated in the project last year and is distributing napkins again this year.
"This is a cause that hits close to home for me, and not only was it an opportunity to share my experiences and struggles, it invited my guests and social media followers to feel comfortable opening up about their own experiences," she said. "I had a lot of really great interactions and I'd like to think with the help of Shangri-La, I made a lasting impression."
Annette Day, owner of Route 99 restaurant in Brooks, heard about last year's project and was eager to get involved this year.
"I think life is too busy, and some people have lost their empathy for those who struggle. If I can do my part by giving them a napkin to read, and possibly even educate one person, I'm happy to do it," she said.
Columbia Bank sponsored the project both years. Tim Johnson, vice president and business banking relationship manager, said the project was vital for Salem.
"We believe that education about both developmental disabilities and mental health is vital to inclusive communities," he said. "We all live and work together in our communities and we value helping make our communities more inclusive for everyone."
Erb said other disability support nonprofit agencies have reached out about the project, hoping to duplicate it in their communities.
"We would love to continue to expand this project throughout Oregon, but also to create a guide and send it to other states in case they want to do something similar," Erb said.
But for now, she hopes people will visit the participating businesses and think about those messages.
"We would love for people to find them and share them. Maybe we'll do even more next year," she said.
A full list of participating businesses is available on the Shangri-La website. Each one will have a set number of napkins with no refills available. Erb encourages people to visit early in March to ensure they get a napkin.
STORY TIP OR IDEA? Send an email to Salem Reporter's news team: [email protected].
SUBSCRIBE TO GET SALEM NEWS – We report on your community with care and depth, fairness and accuracy. Get local news that matters to you. Subscribe today to get our daily newsletters and more. Click I want to subscribe!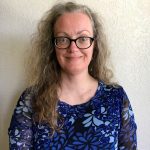 Jean Dion is a freelance writer and marketing professional. She's lived in Salem for about 10 years. When not writing, she dabbles in gardening, photography, and caring for her dogs, cats, and rabbits.