Oregon was an early adopter of civil rights legislation with the 1949 passage of a law establishing the Fair Employment Practices Commission. Just six U.S. states had that type of civil rights protection. Beginning in the 1950s, this commission began hosting an annual conference called the Annual Forum on Intergroup Relations.
In January 1963, Salem City Council was approached by a group of citizens who asked the council to form a civil rights group. Salem Mayor Willard Marshall appointed the Human Rights Temporary Advisory Committee to research this issue and determine the feasibility of creating an ordinance for the City Council which would prohibit racial discrimination. This committee was made up of 20 members and was chaired by Gerry Frank. They studied an ordinance recently adopted by Louisville, Kentucky to promote health, safety and welfare of all persons, including minority groups, and to set up penalties for any discriminatory practices because of a person's race, color, religious beliefs, ancestry or national origin.
The Civil Rights movement continued to grow throughout the nation. Martin Luther King Jr came to Portland Oregon in November 1961. Speaking to Oregonians he said, "Americans must rise above the narrow confines of their individualistic concerns to the broader concerns of all humanity. They must rid themselves of the notion that there are superior and inferior races."
Here in Oregon, the Oregon Human Relations Council hosted the 12th annual Oregon Forum on Intergroup Relations on Oct. 29, 1963. The theme of the conference that year was "A Sense of Urgency: Conference with Government Leaders on Civil Rights and Equal Opportunities." Keynote speakers were Mark Hatfield and Dr. Arthur Flemming, University of Oregon President.
On Aug. 24, 1964 Gerry Frank forwarded the Salem Human Rights Advisory Committee's recommendations to the Salem City Council which included establishing a commission, and naming it the Salem Human Relations Commission. The final ordinance was adopted on Sept. 28, 1964.
In a letter to the editor published on Oct. 2, 1964 in the Oregon Statesman, Mrs. Marguerite Wright praised the work of the Salem City Council in adopting the ordinance. Wright specifically acknowledged the leadership of Justice A.T. Goodwin of the Supreme Court, Capital Journal Managing Editor James G. Welch and Rev. Henry Haines of the First Methodist Church. She further acknowledged the work of Mayor Willard Marshall.
Wright wrote, "With wise and responsible leadership of the caliber that has brought the past's endeavors to fruition, the Commission can permanently erase Salem's onetime rather dubious reputation as an unfriendly and bigoted town."
Welch was elected the first president of the Human Relations Commission with Maurice Saffron, of Saffron Supply Co. as the cice president. The Capitol Journal quotes Haines in a Dec. 11, 1964 tarticle, stating, "Racial disputes in other parts of the country have produced a sense of urgency here, therefore the Commission determined that they would take the initiative in promoting racial harmony in the City as opposed to just responding to incidents as they occur."
The commission did not just work to help Salem's Black community. The Capital Journal reported on July 1, 1965, that the commission was working on facilitating opportunities for Indigenous Chemawa students to engage in more activities within the Salem community. Salem's local Red Cross chapter said their organization would welcome 12 Chemawa students as volunteer assistants. 
The structure and framework of the commission has changed over the years, and while the name has changed slightly, its mission still remains essentially the same. The commission can assist with concerns of discrimination relating to age; disability, gender identity, family status, race/color/national origin; religion; sex; sexual orientation and source of income. For more information please contact [email protected].
Editor's note: This column is part of an effort from Salem Reporter to highlight local history in collaboration with area historians and historical organizations. If you have any feedback or would like to participate in Salem Reporter's local history series, please contact managing editor Rachel Alexander at [email protected].
JUST THE FACTS, FOR SALEM – We report on your community with care and depth, fairness and accuracy. Get local news that matters to you. Subscribe to Salem Reporter. Click I want to subscribe!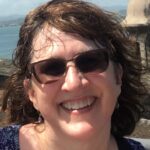 Kimberli Fitzgerald is the city of Salem's archeologist and historic preservation officer. She is a regular contributor to Salem Reporter's local history column.