A state planner with experience in transportation and land use will have a hand in guiding the region's public transportation.
Gov. Kate Brown appointed Bill Holmstrom last month to serve on the board of directors for Cherriots, Salem's public transit service. The seven-member volunteer board serves four-year terms and approves the agency's budget and long-term transit planning.
Holmstrom is a Salem resident with decades of experience working in public transit, transportation and land use planning positions. The current vacant seat will represent subdistrict seven on the Board of Directors, which consists of southwest Salem, including the Sunnyslope, Candalaria and Salem Heights areas. Holmstrom's term will go through June 30, 2023, Senate documents show.
Cherriots board seats used to be elected positions up until 2019, when changes in Oregon law enacted by Senate Bill 1536 during the 2018 Legislative Session made it so seats on the transit board instead became governor-appointed positions.
This means the governor has the authority to appoint or discharge board members, and board members are eligible to be reappointed. The Senate Interim Committee on Rules and Executive Appointments approved Holmstrom's appointment to the board on Sept. 21.
In Holmstrom's application materials, obtained by Salem Reporter through a public records request, he stated that he has "personal and professional interest and experience in public transportation." Holmstrom also described strong public transportation services as "a key social and economic asset to the community."
According to his application, Holmstrom graduated from the University of Oregon in 2000 with a Bachelor of Science in planning, public policy and management. He also completed two years of study in the graduate program for community and regional planning.
He currently works as the Transportation & Land Use Planning Coordinator for the Oregon Department of Land Conservation & Development. He's worked for this department since 2007. Before that, he worked in planning positions for Tillamook County.
Holmstrom has served as a member of the Salem-Keizer Transit District Budget Committee since 2009 and was chair for five years. He was also a director of the Tillamook County Transportation District from 2003 to 2007, and board chair for two years.
"Public transportation is a critical public service for so many people in our community, particularly but not exclusively for underserved populations," he wrote in his application. "This includes people with low incomes, people of color, people with disabilities, people who do not have proficiency in English, people who are experiencing homelessness or unemployment, youth, and the aged.
"Public transportation must provide a safe, useful, and economical way for people to access employment, education, medical appointments, shopping, and otherwise meet their daily needs," Holmstrom wrote. "This allows more people in our community to access opportunities."
When asked in his application what he thought of diversity, equity and inclusion, Bill described it as needing to evaluate who's consistently making decisions and the impacts of that.
"Decision makers must strive to seek out and hear voices that have not historically been heard. The process for making decisions must be as inclusive and transparent as possible," he wrote. "Second, decisions should be made with an understanding of the outcomes, and how they will affect communities."
Bill lives in Salem with his wife Therese, and their two sons Hays and Alex, according to his materials. Other members of the board include president Ian Davidson, vice president Sadie Carney, Sara Duncan, Maria Hinojos Pressey, Ramiro Navarro Jr. and Chi Nguyen.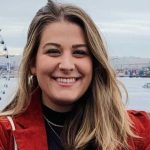 Jordyn Brown is an Oregon journalist who formerly worked for the Eugene Register-Guard.