A Salem bar employee and a man she lives with were arrested on suspicion of stealing more than $30,000 from her workplace earlier this month.
Salem Police detectives arrested Mylicia Marie Mailkoff, 30, and Daniel Francis Lee Demarre, 30, for allegedly working together to rob the Graveyard Bar, according to a press release Wednesday.
According to the release, on Sept. 4 at approximately 11:30 a.m., Mailkoff, who was an employee of the bar located in the 2400 block of State Street, called and reported being robbed at gunpoint by a man wearing a mask. 
Police state Mailkoff reported the gunman leaving with more than $10,000.
However, investigators determined the suspect to be Demarre.
"Detectives learned that the 30-year-old Mailkoff lived with Demarre across the street from the business," according to the release. "The investigators also determined the actual amount of money stolen was more than $30,000."
Mailkoff has been charged in Marion County Circuit Court with aggravated theft in the first degree, a felony, as well as the misdemeanor charge of initiating a false report, court records show.
Demarre will also face first degree aggravated theft charges, police said in the release. He was not yet listed in the court system as of 4 p.m. Wednesday.
Contact reporter Jordyn Brown at [email protected].
JUST THE FACTS, FOR SALEM – We report on your community with care and depth, fairness and accuracy. Get local news that matters to you. Subscribe to Salem Reporter starting at $5 a month. Click I want to subscribe!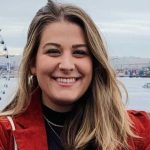 Jordyn Brown is an Oregon journalist who formerly worked for the Eugene Register-Guard.