Editor's note: In January, Salem Reporter published a version of this column outlining the city's civil rights history as city officials considered changing the name of Salem Parkway. We are republishing an updated version now following the renaming.
Last weekend, the Oregon Department of Transportation and city of Salem replaced the street signs renaming the Salem Parkway to Martin Luther King Jr. Parkway.
Councilor Chris Hoy initiated the proposal to name a prominent street after Dr. Martin Luther King, Jr. in 2020. City staff have worked with ODOT on this renaming over the past two years since the Parkway is state owned. The proposal received strong support from members of the public and was unanimously approved by Salem City Council in July 2022.
The goal of the city of Salem's proposal to rename this street is to highlight the importance of Dr. Martin Luther King, Jr. to the Civil Rights Movement in Salem, Oregon. There are currently no facilities named for Dr. King in Salem or within the greater Salem-Keizer metropolitan area. 
Dr. Martin Luther King, Jr. made a lasting contribution to our nation and to Oregon. He was the nation's most prominent leader in the 20th century struggle for civil rights. In 1946, the Atlanta Constitution published Dr. King's letter to the editor stating that black people "are entitled to the basic rights and opportunities of American citizens." In 1948, President Harry Truman issued Executive Order 9981 to end segregation in the Armed Services.
While people tend to think of the civil rights movement being focused on other parts of the country, Oregon had its own civil rights movement. The early work of King and President Truman inspired the Oregon legislature to pass its first civil rights law establishing the Fair Employment Practices Commission in 1949. Oregon was one of only six states in the nation to have this kind of civil rights protection. 
The commission elected Ulysses Plummer, the only practicing Black attorney in Oregon as their secretary. Oregon Governor Douglas McKay is quoted in The Capital Journal, July 21, 1949: "This is a great experiment. Oregon and civil rights are on trial. So, I urge you to do a job that can be looked back upon as a monument to Oregon's farsighted approach to the task of bettering human relations."  
Mark A. Smith, founder and first president of Vancouver, Washington's NAACP, was appointed the administrator of civil rights laws in Oregon. Smith was one of the few Black men working in a position of authority in Oregon during this time. He had come to the Pacific Northwest in 1943 as a radar installer at the shipyards. 
"In Oregon we have conceded the right of everyone to make a living regardless of his race, creed or national origin. We must now step farther and give him the right to make more than a living, the right of developing his ability and making his life one of productive and creative pursuit," Smith is quoted in the August 30, 1963, Statesman Journal. 
In 1964, the first case testing Oregon's civil rights law was tried in Salem at the Marion County Courthouse. The Statesman Journal reported that this case was the first civil rights suit filed under Oregon's 15-year-old anti-discrimination statute. Judge Duncan stated in the April 18, 1964, Statesman Journal that this was the first case of its kind in the United States, and it would be a model for solving similar future difficulties relating to housing discrimination.
It involved a Black couple who had tried to rent a west Salem apartment but were denied due to their race ("Couple Test Oregon's Civil Rights Law", Statesman Journal, January 25, 1964). The complaint was brought to trial by the Oregon State Bureau of Labor, alleging that the Goerkes had refused to rent the apartment to the couple, Mr. and Mrs. Compton McKenzie, based on racial discrimination.
Circuit Court Judge George Duncan issued an official court order requiring compliance with the law and both parties signed a conciliation agreement where the Goerkes agreed to rent the next available apartment to the McKenzies. The court issued a temporary restraining order prohibiting the Goerkes from renting to anyone but the McKenzies first. 
 In 1965, the Salem City Council established the Salem Human Relations Commission to improve racial harmony in the city. James Welch, representing this Commission, worked to ensure equal treatment under Oregon law. In a Nov. 23, 1965 Capital Journal article, describing an event at a Salem Tavern where four Black people were refused service Welch is quoted saying, "the law requires equal treatment in bars, cafes or other public places, refusing service to a person who is not intoxicated or unruly would seem to violate the state code."
In 1967 the Oregon Legislature expanded Oregon's Civil Rights laws. Representative Connie McCready noted in the Statesman Journal April 5, 1967, "we find almost 20 years later the states defining fair employment practices still do not measure up to the brave words of this public policy declaration." 
This new bill authorized the Oregon Labor Commissioner to initiate court suits under Oregon's Civil Rights Law. As a result, Mark A. Smith filed suit against five Oregon corporations on charges of housing discrimination. That same year, the Mid-Willamette Valley Council of Governments established a regional human relations commission as a means of fostering racial harmony, serving all of Marion and Polk counties.
Wesley Howe, executive secretary of the Council of Governments, is quoted in The Capital Journal, Feb. 8: "The primary purpose of a regional human relations commission is to achieve community and individual attitudes-through persuasion-which disregard the race, religion or national origin of individuals." This action was taken after a group of Salem-area Black residents appealed to the Salem City Council for help in solving problems of racial discrimination living outside of the city limits of Salem.  
To learn more about the Civil Rights Movement in Oregon and its connections to current day movements, including Black Lives Matter, visit Racing to Change, an exhibit created by the Oregon Black Pioneers. The Oregon Black Pioneers is a non-profit historical society headquartered in Salem, dedicated to preserving and presenting the experiences of African Americans statewide.
Additional local efforts include Salem-Keizer's chapter NAACP, who have a number of active committees relating to education and race relations. Salem's NAACP facilitates an annual march on Martin Luther King Jr. Day to defend the civil rights leader's legacy.
This column is part of an effort from Salem Reporter to highlight local history in collaboration with area historians and historical organizations. If you have any feedback or would like to participate in Salem Reporter's local history series, please contact managing editor Rachel Alexander at [email protected].
JUST THE FACTS, FOR SALEM – We report on your community with care and depth, fairness and accuracy. Get local news that matters to you. Subscribe to Salem Reporter starting at $5 a month. Click I want to subscribe!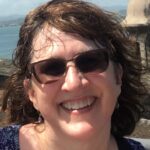 Kimberli Fitzgerald is the city of Salem's archeologist and historic preservation officer. She is a regular contributor to Salem Reporter's local history column.