On a small, two-acre farm that sits south of Salem, a nonprofit is working to give young Native American adults a route back to their roots.
Elderberry Wisdom Farm is headed by Rose High Bear and works to help younger generations carrying Native traditions – from ecological knowledge to oral storytelling – into the future.
"I ran a nonprofit in Portland for 30 years," High Bear said. "I continued the projects I've been doing in the metro area and just extended it down here."
Elderberry Wisdom Farm was founded three years ago.
The work is currently broken into three projects: internships for Native adults in the horticultural and agricultural fields through a partnership with Chemeketa Community College; a partnership with the University of Washington's Indigenous Wellness Research Institute for the Chemawa Journey of Transformation – a five year research project that documents of ecology curriculum created for freshman; and a biography of Martin High Bear, a Lakota medicine man. 
A fourth project was just funded by the Oregon Cultural Trust.
"We are making a short film," High Bear said. "We will train Native youth about their culture by restoring Native American traditional stories."
Between four and eight young adults will be chosen to learn how to operate media equipment to record elders and create the film.
The grant totaled $28,485 and will go towards giving the filmmakers $500 each for equipment, money to pay elders for their participation, traveling money and a small honorarium.
Finding individuals from the culture that can both mentor developing filmmakers and who have multimedia skills is challenging and the funds would help accomplish that, according to the grant application.
The film will feature the cultural traditions of their tribal community and filmmakers will also be trained in traditional tribal stories, songs and oral traditions.
"They will not just learn video production and post production editing as they produce their first documentary film featuring their own traditional heritage," the grant application said. "We are also supporting them as they learn to dream and vision their own future. We are asking them to share the wisdom and stories they find most essential for their tribe's cultural restoration."
A 12-month timeline for the pilot program would also give staff time to prepare to train and mentor the filmmakers.
"The valuable contributions of our project would reverberate through the participating Native American youth," High Bear said. "It would provide an investment in their own futures and strengthen the positive contributions they could provide to society. We estimate it will increase their health and wellness resiliency, including their cultural identity and positive self-esteem."
No decisions on the number or identity of participants have been made, something that will come in the fall, according to High Bear.
The grant was part of a larger award this week of $3.4 million to 138 cultural organizations across Oregon, including eight others in the Salem area that earned about $160,000 combined.
Contact reporter Caitlyn May at [email protected].
JUST THE FACTS, FOR SALEM – We report on your community with care and depth, fairness and accuracy. Get local news that matters to you. Subscribe to Salem Reporter starting at $5 a month. Click I want to subscribe!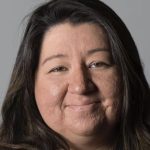 Caitlyn May served as a journalist for nearly a decade in Nevada and in Linn Lane counties in Oregon with a focus on rural stories and long-form journalism. A graduate of both Oregon State University and the University of Oregon, she currently serves as an elementary school teacher but returns to journalism now and then, remaining a dedicated supporter of the Fourth Estate.