Food pantries in and around Salem continued to see a sharp increase in visitors as residents content with inflation and high gas prices.
It's a change the Marion Polk Food Share first detected in March, though it was too early to determine if it was a trend at the time.
Four months later, Marion Polk Food Share reports that visits have stayed fairly steady at about 13,000 families per month seeking out food resources. That number is up from December when visits were recorded at about 11,500 families per month.
"What we're hearing is people coming in because prices of food at the stores are much higher," said Megan Rivera, director of community programs for the food share. "So if they get SNAP benefits (food stamps) it's not lasting as far and the cost of gas is cutting into their income much more than it has in the past. We are also seeing reports of new families coming to the pantries who haven't before."
Gas prices reached a record high in Salem in mid-June averaging $5.47 a gallon, while the national average rose to $4.87, according to AAA.
On Wednesday, the Federal Reserve raised the interest rate by three-quarters of a percentage point in a bid to combat inflation–a rise in the general price of goods and services. The Consumer Price Index, a measure of the average change in prices of goods and services, increased 9.1% since last June according to the Bureau of Labor Statistics.
That means people are paying more for things like food, fuel and rent which is driving some to seek out resources like the food share.
"Inflation at the store of the gas station or whatever makes it harder for the money to last the month," said Marion Polk Food Share CEO Rick Gaupo in an interview with Salem Reporter in March.
At the time, the food share was seeing an 18% increase from the average number of visits over the previous six months. And that increase has sustained in the four months since.
Those are numbers the organization hasn't seen since the height of the pandemic.
In 2020, the food share averaged 13,000 visits per month throughout the year, seeing a burst of nearly 15,000 visits in the spring of that year. But in 2021 when governmental assistance and pandemic relief programs were rolled out at the federal level, numbers dropped.
"There is no way to truly know for sure, it's just the best information to our understanding," said Rivera in terms of whether the federal programs eased the demand on the food pantry. "The data we have is that we saw fewer people in 2021."
Currently, SNAP recipients are still receiving pandemic boosts, but those are expected to phase out in September. The food share expects to see another increase in visitors once that happens.
"It's not enough to meet the need of rising costs of gas and groceries," Rivera said of the extended SNAP benefits.
Marion Polk Food Share supplies 23 pantries in Salem and additional pantries in the outlying areas of the counties. Visitors do not have to show ID or proof of income to receive food.
"A person just needs to show up during the open hours of the food pantry," Rivera said.
The experience, however, may differ depending on what pantry a person visits. Some will allow people to shop the pantry choosing food that best fits their household while others will give out prepared boxes of food.
Fresh produce–from national-level producers, grocery stores and local farms–is available as well as dairy products, frozen meat and rice and pasta.
A list of pantries is available on the food share's website.
Contact reporter Caitlyn May at [email protected].
JUST THE FACTS, FOR SALEM – We report on your community with care and depth, fairness and accuracy. Get local news that matters to you. Subscribe to Salem Reporter starting at $5 a month. Click I want to subscribe!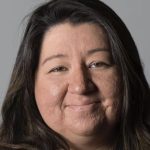 Caitlyn May served as a journalist for nearly a decade in Nevada and in Linn Lane counties in Oregon with a focus on rural stories and long-form journalism. A graduate of both Oregon State University and the University of Oregon, she currently serves as an elementary school teacher but returns to journalism now and then, remaining a dedicated supporter of the Fourth Estate.