Mayoral candidates Chane Griggs, left, and Chris Hoy speak at a debate during a Salem City Club meeting on Friday, April 1. (Screenshot)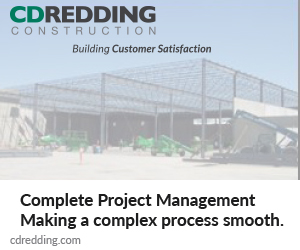 Salem's two mayoral candidates largely saw eye to eye on the city's most urgent issues in a debate during Friday's Salem City Club meeting, though each said their experience has equipped them to make needed changes.
It's a two person race between Chane Griggs, president of the Rotary Club of Salem and the city's planning commission, and Chris Hoy, city council president and state representative for House District 21. Mayor Chuck Bennett's third term ends this year and he isn't seeking re-election.
Because there are only two candidates running, the nonpartisan race will likely be decided in the May 17 primary election. If one candidate gets more than 50% of the vote plus one vote, they'll appear alone on the November general election ballot, though voters can add write-in candidates. If no candidate gets more than half the vote, both will be listed in November.
Griggs believes her career experience in public safety, city planning and volunteering has prepared her to serve as mayor, while Hoy said he has the working relationships with people in city, county, state and federal government needed to get things done.
Hoy said in his opening remarks that Salem needs a mayor prepared to "hit the ground running."
"There is no time to spend learning what the city does or how things work," he said.
Hoy added that he is informed by his own experience being born to a single mother who struggled with substance abuse and died while a patient at the Oregon State Hospital, as well as 30 years working in law enforcement.
Griggs in her introduction said Salem can't afford to continue its current approach to addressing homelessness.
"Although we have thrown millions of dollars to the problem in the past five years, the situation has not apparently gotten better," she said.
In her past work as assistant director for the state Department of Corrections, she said she saw firsthand that "evidence-based treatment and programming coupled with accountability" can be successful.
Regarding what the city council's three highest priorities should be, Hoy said developing a rapport so they can work as "a cohesive unit as much as possible," addressing the homelessness issue and helping people get through the pandemic.
Griggs said the top priorities should be addressing homelessness, the need for more affordable housing and continuing to ensure the city's public safety system is accountable, transparent and equitable.
Both candidates said they support Salem having a climate action plan which should be implemented in phases.
Hoy said an upcoming infrastructure bond will be "critical" in addressing issues in Salem that have previously been ignored. The city is asking voters to approve a $400 million bond in November to pay for fire equipment, street and sidewalk improvements and park investments, among other costs.
Bennett in his final State of the City Address in February urged residents to vote for the infrastructure bond.
"It's really the only means we have of doing any meaningful infrastructure building beyond just routine matters," Hoy said during the debate.
Griggs described the Salem Fire Department's fleet as decrepit, breaking down and needing replacements.
"Already the response rate for an ambulance to get to my house when I have a heart attack is not acceptable, because it's about half of what it should be, the response rate. So from that perspective, I think that's just critical."
Griggs also said Salem is running out of buildable land within its urban growth boundary, while the city is projected to grow by 16,000 people in the next 14 years.
"It's the responsibility of city leaders to ensure that we can meet that housing need," she said.
She and Hoy both said they don't support providing financial incentives for neighbors to create affordable housing.
"I would hope we could find suitable land that wouldn't require that sort of incentivization," Hoy said.
When asked whether Salem needs a third bridge across the Willamette River, Griggs said the idea was "overwhelmingly supported" and that it was "unfortunate" the council previously voted against it.
In a 6-3 vote, councilors in February 2019 said they wouldn't instruct city staff to help state transportation officials complete an environmental review needed to build Salem River Crossing, effectively ending the project which started in 2006. The project proposed building a bridge that would have crossed the Willamette River from the Highland neighborhood to west Salem, pitched as a remedy for congestion at the Marion and Center street bridges.
Hoy said that the question before councilors was whether to build that bridge or no bridge. "The reason we said no is we didn't want to tear down 150 homes and businesses for people who could least afford to relocate. We didn't feel like having a flyover off ramp 12 feet over your head as you walk across the Union Street Bridge was a good idea," he said.
In response, Griggs said she agreed "the location may have been not the right location, but I think if we had effective leadership at city council and as mayor, you would have had those conversations earlier in the game and identified that that location was not appropriate."
The race for Salem's mayor came down to two after union organizer Hollie Oakes-Miller recently dropped her candidacy.
Griggs reported she has collected around $83,900 in contributions as of April 4, while Hoy reported raising $40,000 in contributions so far.
Griggs said Salem "needs to be a better version of itself," but that she is optimistic about the prospects of that.
"You could look at just about every part of Salem and see new businesses popping up. I'm working hard to be your next mayor and appreciate consideration of that when you cast your vote," she said.
Hoy said the work the city has done in recent years to address homelessness hasn't been enough because people are still living on the streets.
"Salem is at a crossroad. I'm very clear on which road we must take to go forward. I hope you will join me on this journey," he said.
This article was updated to clarify that a mayoral candidate must receive at least half the vote in the May election to advance to the November ballot alone.
HELP US COVER ELECTION 2022 – As candidates make their pitches to voters, the Salem Reporter team wants to hear from you. Got an election mailer or an ad you want us to fact-check? Questions or concerns for a candidate? Email your thoughts to Managing Editor Rachel Alexander at [email protected].
Contact reporter Ardeshir Tabrizian: [email protected] or 503-929-3053.
JUST THE FACTS, FOR SALEM – We report on your community with care and depth, fairness and accuracy. Get local news that matters to you. Subscribe to Salem Reporter starting at $5 a month. Click I want to subscribe!