Sam Bereny, an EMT with Metro West Ambulance, holds a second dose of the Moderna vaccine at a drive-thru COVID-19 vaccination clinic at Centennial Park in Woodburn, Ore. on Thursday, April 1, 2021. (Amanda Loman/Salem Reporter)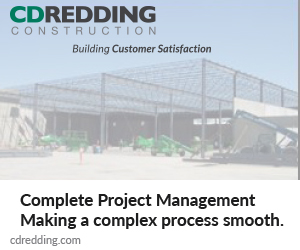 The number of Oregonians eligible for a Covid vaccine has dramatically expanded in the past week, which means more people than ever are searching for appointments to get a shot.
Securing an appointment might take some patience. Here's what you need to know in Salem.
Who's eligible?
There are no Covid vaccines yet approved for children or teens under 16. Only the Pfizer vaccine is approved for 16 and 17-year-olds.
The newest groups of people able to schedule a vaccine are:
-All frontline workers in Oregon
–Family members of frontline workers who live in the same household
-Anyone 16 or older with an underlying health condition
–People living in households with extended family members, such as a grandparent and grandchild, or adults caring for a niece or nephew
Several of these categories are broader than they might appear.
Underlying health condition includes anyone considered overweight or obese, meaning they have a body mass index of 25 or higher. You can calculate your body mass index here.
It also includes current and former smokers, people with cancer, type 1 or 2 diabetes, Down syndrome, HIV, heart disease, lung disease, moderate to severe asthma and substance abuse problems, as well as people who are pregnant.
Frontline worker means anyone who is regularly in close contact with people outside their household for work purposes and cannot perform their work entirely from home. The list of industries included is broad, covering grocery store and restaurant workers, as well as construction workers, engineers, transit drivers, college and university workers, manufacturing and more.
Earlier groups, including Oregonians 65 and older, teachers, health care workers and correctional employees remain eligible. A full list of everyone eligible, including frontline worker industries and underlying health conditions, is on the Oregon Health Authority website.
Where can I get a vaccine?
Vaccines in the Salem area are available at:
-Mass vaccination clinics, such as Salem Health's clinic at the state fairgrounds
-One-day events, like Woodburn Ambulance's drive-through vaccination event held on Thursdays
-Retail pharmacies, like Walgreens and Rite-Aid
-Some health centers, doctor's offices and clinics
The Marion County Health Department has a list of local providers, including pharmacies that have appointments.
How do I schedule an appointment?
Salem Health uses an online system to schedule shots at the Salem fairgrounds, Western Oregon University and its Woodburn clinic. New appointments are posted Mondays, Wednesdays and Fridays at noon, so check back if nothing is available when you first search. Salem Health generally uses the Pfizer vaccine at its fairgrounds clinic, and the Moderna vaccine at its other clinics.
Santiam Hospital in Stayton allows people eligible for a vaccine to pre-register and will contact you to schedule an appointment when they have doses available. Register online here.
Woodburn Ambulance hosts a weekly drive-through vaccination clinic on Thursdays, with pre-registration required. Appointment information is typically posted on the ambulance's Facebook page the Monday before the clinic. Appointments for the April 8 clinic are available here using access code 2021.
Local pharmacies receiving Covid vaccines include Walgreens, Rite Aid, Safeway, Bi-Mart, Costco, Fred Meyer and Walmart. Each pharmacy has its own online scheduling system.
There are several websites that collect information about local pharmacy vaccine appointments and update it regularly. Though not an official government website, Vaccine Spotter is a useful tool for finding pharmacy openings and lets you search by ZIP code.
The Marion County Health Department website has contact information for several clinics that receive doses of vaccine, and links to pharmacy scheduling websites. The county is also available to help people who can't schedule online. Get help by calling 503-576-2828.
The Confederated Tribes of the Grand Ronde is making some vaccines available to non-tribal members and allows people to register to receive information when vaccines may be available. More information is available on the tribe's website.
Do I need proof of eligibility?
While each site is free to set their own requirements, Oregon does not require proof of employment or eligibility to get a vaccine. Most vaccine providers ask you to check a box or sign a statement saying you're eligible, but don't require proof beyond your word. There's no need to bring your employee ID or medical records with you unless your vaccine provider specifically requests them.
How do I get my second dose?
There are three Covid vaccines approved by the Food and Drug Administration. Two of them, Pfizer and Moderna, require two shots. Pfizer doses are spaced three weeks apart, and Moderna doses four weeks apart.
You will get your second dose at the same place you got your first dose. Some locations will schedule you for a second dose online at the same time as your first dose. Others will schedule you at the clinic once you've received your first shot.
The Johnson & Johnson vaccine requires only one dose.
Do I need to get vaccinated where I live or work?
Oregon has no requirement you get vaccinated in the city or county you live or work in, so west Salem residents are free to cross the river in search of vaccines.
However, keep in mind you'll need a second dose of vaccine at the same location (unless you're getting the one-dose Johnson & Johnson shot), so consider your schedule and willingness to drive before road-tripping across Oregon in search of an appointment.
Do I need health insurance?
Anyone can get a vaccine for free, regardless of whether or not they have health insurance.
Most vaccination sites ask for your insurance information so they can bill your insurer for the labor cost of administering the vaccine. If you have health insurance, that cost will be covered in full and you will not receive a bill. If you don't have insurance, the federal government reimburses the provider for the cost.
Have other questions about Covid vaccines in Salem? Contact reporter Rachel Alexander: [email protected] or 503-575-1241.
Salem Reporter counts on community support to fund vital local journalism. You can help us do more.
SUBSCRIBE: A monthly digital subscription starts at $5 a month.
GIFT: Give someone you know a subscription.
ONE-TIME PAYMENT: Contribute, knowing your support goes towards more local journalism you can trust.
Rachel Alexander is Salem Reporter's managing editor. She joined Salem Reporter when it was founded in 2018 and covers city news, education, nonprofits and a little bit of everything else. She's been a journalist in Oregon and Washington for a decade. Outside of work, she's a skater and board member with Salem's Cherry City Roller Derby and can often be found with her nose buried in a book.