"To form a perfect conception of the beauty and elegance of these Swans, you must observe them when they are not aware of your proximity, and as they glide over the waters of some secluded inland pond. On such occasions, the neck, which at other times is held stiffly upright, moves in graceful curves, now bent forward, now inclined backwards over the body. Now with an extended scooping movement the head becomes immersed for a moment, and with a sudden effort a flood of water is thrown over the back and wings, when it is seen rolling off in sparkling globules, like so many large pearls…. Imagine, reader, that a flock of fifty Swans are thus sporting before you, as they have more than once been in my sight, and you will feel, as I have felt, more happy and void of care than I can describe." —John James Audubon (1843)
The trumpeter swan is doing well in some parts of its North American range. It is found nowhere else. Early in the 20th century there may have been fewer than 2,000 of these great birds left alive.  Estimates are that at the low point in the 1920s and 30s, the number dropped to just 69 in the lower 48 United States, another 100 in Canada and perhaps as many as 1,000 in Alaska.  
I spoke with trumpeter fan and expert Gary Ivey. He lives here in Oregon and is president of the national Trumpeter Swan Society. Current estimates for the world population of Trumpeter Swans: ~26,591 in the Upper Midwest (including Ontario); 11,722 in Rocky Mountain region of U.S. and Canada; 24,089 in Alaska and other Pacific states. Total: less than 63,000 wild trumpeters. In Yellowstone, the population has dropped from the historic high of 32 pairs to two. The Salish-Kootenai Tribe has recently fostered a flock of around d 120 swans in the Flathead Valley of western Montana.
In Oregon, two swans were on Benson Pond at Malheur National Wildlife Refuge this summer. It was a mother-daughter pair, born in 2009 and 2012 respectively. In 1986, the Malheur flock peaked at 86 trumpeters which wintered on Malheur Lake. Malheur floods of the mid-1980s allowed common carp to ruin the Malheur Lake wintering site, causing them to shift to winter in less suitable sites near Frenchglen, where winter food is scarce.
The Trumpeter Swan Society and Oregon Department of Fish and Wildlife are partners in the Oregon Trumpeter Swan Restoration Project which intends to build a healthy self-sustaining flock of trumpeters in Oregon through releases of captive-reared birds at Summer Lake Wildlife Area. The other wild swans in Oregon spend much of their time at or near Summer Lake. A captive pair at Sunriver Nature Center's pond have raised two cygnets.  hose young birds will be released to the flock at Summer Lake where swans usually can over-winter as the water does not freeze solid. 
Swans often have to be four years old or more to nest. The young captive pair at Pronghorn Golf Resort near Sisters has not nested, yet. No wild swans have nested successfully in Oregon the past two years.  The current Oregon trumpeter count is about 30.
Adult swans are the heaviest native bird in Oregon — sometimes over 30 pounds.  Their wingspan is over six feet. Their diet is mostly emergent or submerged plants, some fish and fish eggs.
If we help them survive we can feel happy like Audubon did two centuries ago. Trumpeters need wetlands with plenty of vegetation: the more the better.
For information about upcoming Salem Audubon programs and activities, see www.salemaudubon.org, or Salem Audubon's Facebook page.
Harry Fuller is an Oregon birder and natural history author of "Freeway Birding." He is a member of the Salem Audubon Society. Contact him at [email protected] or atowhee.blog. His "Some Fascinating Things About Birds" column appears regularly in Salem Reporter.
JUST THE FACTS, FOR SALEM – We report on your community with care and depth, fairness and accuracy. Get local news that matters to you. Subscribe to Salem Reporter. Click I want to subscribe!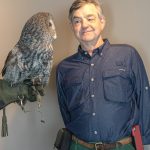 Harry Fuller is an Oregon birder and natural history author of three books: "Freeway Birding," "Great Gray Owls of California, Oregon and Washington," and "San Francisco's Natural History--Sand Dunes to Streetcars." He leads birding trips for the Malheur Field Station. He is a member of the Salem Audubon Society, and leads bird trips locally.