In February, JoAnna Fields said she wanted all kids to be able to play soccer, regardless of their ability.
Six months later, 40 kids and their buddies have had access to soccer games played at their level as part of TOPSoccer.
The program is offered nationally for children living with a disability. It's managed locally by the Capital Fútbol Club, a Salem nonprofit for which Fields acts as the program director.
"It's a really cool experience," Fields said. "We have a wide range of athletes with various disabilities. We had kiddos in wheelchairs out on the field, Down Syndrome and athletes that are just slow on the emotional development train."
The national TOPSoccer program offered the Capital Fútbol Club a $2,500 grant for adaptive equipment in the beginning of 2022 to start a local program. This week, the Oregon Community Foundation announced Salem's TOPSoccer program was awarded $20,000.
The money was part of $8.7 million given to organizations around Oregon after the foundation received a record 960 applications for just over $24 million.
"The volume of applicants reveals the ongoing needs of communities recovering from past crises in Oregon and struggling to meet ongoing needs. OCF's 2022 Community Grant recipients reflect the responsive nature of a diverse base of nonprofits from every part of the state," said John Chang, Senior Program Officer, Oregon Community Foundation in a prepared statement.
Field said the need for accessible sports was apparent in the response to TOPSoccer coming to Salem.
"We saw an overwhelming response of need," she said.
Athletes take to the field and have what Fields describes as a P.E. experience. Practice starts with warm ups, individual drills and then the field at Salem Indoor–a facility Capital Fútbol Club rents–is split in half and two mini games take place.
They work with buddies who lend their time as current Capital Fútbol Club players or members of the community.
"That's what we want, more community buy-in," Fields said.
The range of disabilities also provides an opportunity for a wider community engagement.
"One of our little friends, after, turned to their buddies and said, 'Bye, I'll see you Monday,'" Fields said. "I guess they go to the same school but see each other at lunch. So at school they're segregated but on the soccer field they're able to be partners and be on the same team which is kind of cool."
Kids also get to play the game to their own capacity by using adaptive equipment which the $20,000 grant will help add to.
"We have rattle balls which is a ball that has a sensory sound in it so our friends with eyesight impairment can better track the ball," Field said. "We also have weighted balls for our players in wheelchairs so it doesn't roll away as quickly and foam balls for athletes who may not be strong enough to kick the ball or who may kick the ball too hard."
There have been about 30 volunteers, Fields said and she hopes for more.
"I volunteer with TOPSoccer to put myself in an atmosphere of motivated people and to create that same environment for the kids we work with," said volunteer Isabelle Gatchet, a current Capital Fútbol Club player.
The grant money, Fields said, will go towards t-shirts for volunteers as well as additional adaptive equipment and an assistant salary.
The next season starts in September with an $80 registration cost for eight weeks of activity.
For more information or to volunteer, visit Capital Fútbol Club's website.
Contact reporter Caitlyn May at [email protected].
JUST THE FACTS, FOR SALEM – We report on your community with care and depth, fairness and accuracy. Get local news that matters to you. Subscribe to Salem Reporter starting at $5 a month. Click I want to subscribe!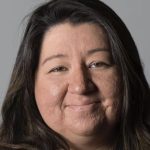 Caitlyn May served as a journalist for nearly a decade in Nevada and in Linn Lane counties in Oregon with a focus on rural stories and long-form journalism. A graduate of both Oregon State University and the University of Oregon, she currently serves as an elementary school teacher but returns to journalism now and then, remaining a dedicated supporter of the Fourth Estate.