When "Lost in the Hills" hits the stage Thursday night at Theatre 33 in Salem, it will be the first time anyone has seen it.
Anyone outside of the playwright, Paul Lewis, the actors, the professional writer hired to help work out the wrinkles and Tom Nabhan, the theater's executive director, that is.
The theater, wrapping up its ninth season, develops new works rather than staging existing plays.
"It's an important distinction," Nabhan said.
The last play of the season to go through the process is "Lost in the Hills."
Set in 1918 in Spokane Washington, Nabhan described it as a love story combined with events of the time, like unionization.
And, it's a musical. Only the third one in nine years that Theatre 33 has taken on.
Musicals, Nabhan said, are inherently harder to put on. Production is searching not just for actors, but actors who can sing and the live accompaniment adds another moving part to the already dizzying process of putting on a play.
"A musical is probably double the work we normally do," Nabnah said. "But we want to stretch and hope to get more musicals. They're more challenging but more rewarding as well. We want a variety of different art and so we do dramas, comedies and musicals."
About 30 plays were submitted from playwrights throughout the Pacific Northwest and six were chosen to come through Theatre 33–an experience that includes a professional writer working hand in hand with the playwright on the script, staging the play and incorporating rewrites.
"We lodge the person here in Salem," Nabhan said. "They see their play on its feet for the first time, and these are full productions with full design elements, set, sound, lights, props, costumes, and they make changes."
At the end of a show's run, the playwright and director have a discussion with the audience gaining additional feedback.
"When they leave us, they have all this vital information and either the play is done or they continue to work on it," Nabhan said.
In stretching further, Theatre 33 is working on inviting more people to Salem over the course of its summer seasons by hosting a regional destination festival.
"Not on the scale of the Shakespeare Festival," Nabhan said of the annual event held in Ashland, Oregon that attracts about 400,000 people. "But we want to build a summer festival where people from all over the region travel to Salem to see the plays and we'd have pop up readings, lectures, seminars all related to creative writing. That's the goal. If we can accomplish that, it'll be a big deal."
For now, Theatre 33 puts on six plays each summer and will wrap up 2022 with "Lost in the Hills" opening Thursday night.
The play will run for a total of six shows with two shows on Saturday at the Putnam Studio in the M. Lee Pelton Theatre at Willamette University. There is no cost to tickets but seats must be reserved and a donation is welcome. 
For more information or to reserve seats visit the theater's website.
Contact reporter Caitlyn May at [email protected].
JUST THE FACTS, FOR SALEM – We report on your community with care and depth, fairness and accuracy. Get local news that matters to you. Subscribe to Salem Reporter starting at $5 a month. Click I want to subscribe!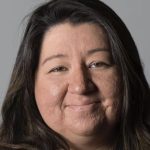 Caitlyn May served as a journalist for nearly a decade in Nevada and in Linn Lane counties in Oregon with a focus on rural stories and long-form journalism. A graduate of both Oregon State University and the University of Oregon, she currently serves as an elementary school teacher but returns to journalism now and then, remaining a dedicated supporter of the Fourth Estate.