Dolly Parton is coming to Salem.
While the country music legend won't be visiting Oregon's capital, her Dolly Parton Imagination Library will soon offer books to kids in two local ZIP codes each month.
The nationwide program is an effort to raise literacy rates by getting free books into the hands of kids from birth until they're five.
"A survey done a few years ago asked families in the Salem-Keizer area to report on a variety of things including the number of books in their home," said Lisa Harnisch, executive director of the Marion and Polk Early Learning Hub. "Like 63%, a lot, had fewer than 10 books total in the home. Not just children's books, all books."
The hub will act as the required local, nonprofit backbone of the nationwide program that has been in operation since 1995.
North Salem and Keizer, ZIP codes 97301 and 97303, will be the first to have the opportunity to sign up to receive a free book each month but Harnisch said the goal is to push the program into the entire Salem area.
"We chose these two ZIP codes to begin with because our data shows that these ZIP codes are among the highest school-readiness needs areas in our school district," a statement about the program read.
The program is also planning to launch in Independence and Fall City, Harnisch said, and is still coordinating events to sign families up.
Salem has just two city libraries – the main branch just south of downtown, and one in west Salem. Library access remains a challenge for kids in east and northeast Salem, both areas of the city that have seen substantial growth in recent years and have large shares of low-income families. Areas further from a city library include a large portion of the 97301 ZIP code.
Some volunteer efforts have tried to bridge the gap by installing Little Free Libraries in east Salem neighborhoods and keeping them stocked with kids books.
Print awareness – the knowledge of how books open and that words are read left to right – is essential to being prepared to learn how to read. 
Young children can develop these skills before they know their alphabet by being read with and engaging in a book by pointing out how a character may be feeling in a picture or predicting what happens next. 
"The nice thing about the Dolly Parton Imagination Library," Harnisch said, "is that it provides some guides for families on how to do just that."
And, it's free. 
Families pay nothing for books to be delivered to their homes each month. Instead, the $26 per child, per month, will be shouldered by the local chapter of Delta Kappa Gamma, a professional society for women in education, as well as the Marie Lamfrom Community Foundation, DKG International Educators Foundation, Salem Rotary Literacy Committee and the Bobbie Dolp advised fund of the Oregon Community Foundation. 
Harnisch expects the program can serve about 750 families, providing over 5,500 books monthly to local kids.
The cost of books, Harnisch said, can be prohibitive. 
The average children's book can cost what a family may spend in fuel for a one-way drive to work. 
"I think the cost of books has always been a part of the issue of why families don't have books in their homes, to be honest," Harnisch said, noting that community programs often step in where possible.
But early access to books has a direct impact on young students being able to read–and that skill can have lasting impacts on a child's life.
A 2020 study from the U.S. Department of Education showed that approximately half of U.S. adults cannot read beyond a sixth-grade level. 
One in six children who are not reading proficiently by third grade do not graduate from high school on time, according to a 2012 study by the Annie E. Casey Foundation – a nonprofit organization with a focus on early education, juvenile justice system and foster care. 
But a child does not have to know how to read to benefit from the Dolly Parton Imagination library program. By reading with a child, or allowing the child to access books, they learn foundational skills like print awareness. 
"It's also time together," Harnisch said. "It's a time for adults and children to be together in the same proximity and engage around colors, artwork and have great conversations."
Those conversations can also happen in Spanish. The Dolly Parton Imagination Library has two bilingual books that will be sent to the home, automatically, Harnisch said. And information about signing up for the program will be available in Spanish as well. 
The Salem Dolly Parton Imagination Library project will launch this Friday, July 29 at the Fun Friday event put on by the Hallman Family Council in Northgate Park from 4 p.m. to 7 p.m. Application forms will be available in both Spanish and English and are free to submit. 
Additional sign-ups will be held at Keizer Fest on Aug. 13-14, Keizer River Festival on Aug. 13 and at the Englewood First Festival on Aug. 13. 
Contact reporter Caitlyn May at [email protected].
JUST THE FACTS, FOR SALEM – We report on your community with care and depth, fairness and accuracy. Get local news that matters to you. Subscribe to Salem Reporter starting at $5 a month. Click I want to subscribe!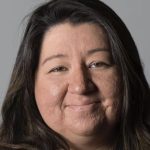 Caitlyn May served as a journalist for nearly a decade in Nevada and in Linn Lane counties in Oregon with a focus on rural stories and long-form journalism. A graduate of both Oregon State University and the University of Oregon, she currently serves as an elementary school teacher but returns to journalism now and then, remaining a dedicated supporter of the Fourth Estate.